Disciples of Chaos - In Chaos we trust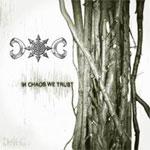 Italië. Land van wijn, pasta, foute accenten en bombastische power metal. Disciples of Chaos hoort bij de laatste twee groepen en haalt haar invloeden uit bands als Iced Earth, Blind Guardian met een paar progressive invloeden. Een kunstje wat al vaak is gedaan en in een aantal gevallen zelfs behoorlijk gaat vervelen. Eens zien of de Italianen met deze 4-track promo wel wat stof doen opwaaien.

'Broken Mirrors' overtuigt nog niet helemaal. De productie is aardig en er is zeker aandacht besteed aan de songstructuur, maar de ietwat valse zang met zwaar accent en irritante keyboards breken het geheel dan weer af. 'Changing Breed' klinkt gelukkig al wat beter, mede door het uitstekende drumwerk van Federico De Zani en enkele prachtige gitaarsolo's. 'Warlock Quest' gaat van start met een mars ritme op de drums en een semi-orkestrale toetsenlaag, en wederom zijn het deze toetsen die de boel enigszins naar beneden halen. Zanger Mirko Biassoni probeert in ieder geval nog een redelijk geslaagde imitatie van Mathew Barlow te geven, maar klinkt helaas in de hogere regionen ietwat beknepen. 'Lament for Lucifer' klinkt nog meer Iced Earth (met een Rhapsody achtige gitaar solo) dan het voorgaande nummer en mag zeker geslaagd genoemd worden.

De drummer, gitaristen en bassist verrichten prima werk en de zanger wil ik sommige fouten met plezier vergeven, maar ik hoop dat de toetsenist zijn partijen en geluid voor de volgende release ietwat aanpast. 'In Chaos we trust' had namelijk een stuk steviger en origineler kunnen klinken dan het nu doet zonder nep violen op de achtergrond. Desalniettemin is de band er wel in geslaagd een redelijk eigen sound te hebben (zijn het dan toch de toetsen?) en is er duidelijk wat muzikaal talent te vinden, een bescheiden aanrader.

Tracklist:
1. Broken Mirrors
2. Changing Breed
3. Warlock Quest
4. Lament for Lucifer
Score: 70 / 100

Reviewer: Lennert
Toegevoegd: 31 oktober 2005
Meer Disciples of Chaos: