Black Tongue Tribe - Black Tongue Tribe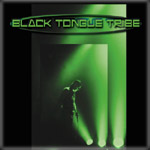 Het Nederlandse Black Tongue Tribe, een gothic-industrial act die zich live bedient van twee danseressen, brengt dit jaar hun eerste album uit. In totaal twaalf zeer dansbare tracks met stevige beats, zagende gitaren à la Rammstein en Oomph!. De zeer van stijl wisselende vocalen van zanger MalDrion (Niels Bakker), die soms wel wat weg heeft van Rammsteins Till Lindemann, geven de vrij diverse nummers nog een extra dimensie. Sferen worden afgewisseld van duister en 'doom' in bijvoorbeeld opener Truth Is Not The Issue tot uiterst passioneel in bijvoorbeeld Simulating Grief. Als totaalplaatje lijkt Black Tongue Tribe wel wat op KMFDM, maar vooral op Cubanate.
De kwaliteit van de nummers is soms wisselend van echte knallers tot matige songs. De wat mindere tracks zijn ook meteen de minder dansbare – gelukkig is dat incidenteel. Echte hoogtepunten van het album zijn Extra Terrestrial Season en Synthetic Hope. Allereerst springt Extra Terrestrial Season er al uit met een sample uit Jeff Wayne's War of The Worlds, daarnaast combineert het ook op perfecte wijze de harde beats en eerder besproken stevig zagende gitaren; dit alles in een geweldig tempo. Synthetic Hope doet me wat betreft stijl echt enorm denken aan de eerdergenoemde geweldige Engelse jaren negentig electro-industrial groep Cubanate, met name aan hun topnummer Body Burn. Zanger MalDrion wisselt in deze twee nummers zijn ruige brommende stemgeluid ook af met heerlijk elektronisch aandoende vocalen. Eveneens noemenswaardig is de cover Venus in Furs van popgroep The Velvet Underground (o.a. Lou Reed).
Het wat 'lagere punt' komt vooral doordat de muziek, op een enkele uitzondering na, van Black Tongue Tribe vooral geschikt is om op te dansen en dan ook het beste tot z'n recht zal komen in de concertzaal met een flink bewegende massa.
Tracklist:
1. Truth Is Not The Issue
2. Extra Terrestrial Season
3. Slick Moves And Passionate People
4. Break Me If I Won't Fit In
5. Black Tongue Tribe
6. Venus in Furs
7. Into The Bush
8. Synthetic Hope
9. Simulating Grief
10. Impulse
11. Others
12. One Eye
Score: 80 / 100

Reviewer: Walter
Toegevoegd: 23 september 2005
Meer Black Tongue Tribe: