Fellowship of the Ring - A Legend of the Elves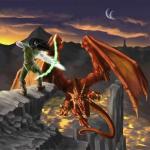 Met een naam als 'Fellowship of the Ring en een EP die 'A Legend of the Elves' heet zul je als band nooit een originaliteitprijs winnen. Als men dan ook nog op de (overigens zeer lelijke) albumcover een anatomisch incorrecte elf en een slordig getekende draak zet is het clichéplaatje helemaal compleet. Hebben we hier wederom te maken met een Italiaanse Rhapsody kloon?

Nee, we horen hier geen gestresste 'symphonic epic dragonic power/speed metal' voorbijkomen in de stijl die dhr. Luca Turillli de laatste jaren populair heeft gemaakt. De band put haar kracht eerder uit jaren 80 AOR muziek en combineert het met een symfonisch sausje en lichte, vrouwelijke vocalen. Ik zeg hier 'licht' omdat Annalisa Rattini geen operazangeres is, maar qua zang eerder doet denken aan een band als the Gathering. Niet altijd even zuiver, maar zeker niet onprettig om naar te luisteren. De grootste domper van het album is echter de productie, die zowel haar stem als de instrumenten in al hun bombast niet tot hun juiste recht laat komen. De gitaren en bas staan te ver op de achtergrond, waardoor het geheel verzuipt in een dikke toetsenlaag. De drums staan dan weer wel goed in de mix, maar de partijen klinken te ongeïnspireerd om echt indruk te maken.

Toch is 'A Legend of the Elves' niet slecht. De zeven nummers liggen ondanks de productie goed in het gehoor en zijn duidelijk geschreven door iemand (toetsenist Marcello Piccinini) die verstand heeft van muziek. Annalisa klinkt prettig en articuleert duidelijk waardoor we niet voor de zoveelste maal naar een krom accent hoeven te luisteren (let maar eens op hoe vaak 'Emerald' als 'Iemerald' wordt uitgesproken door Italianen). Met een betere productie zal deze epische mini-rockopera vast beter tot zijn recht komen. Tot de band dat voor elkaar heeft scoren ze in mijn boekje een ruime voldoende.

Tracklist:
1. A Legend of the Elves
2. The Emerald Bow
3. Journey to Galadar
4. Beyond the White Sea
5. Warriors Lullaby
6. Red Dragon
7. I will face the World (to find you)
Score: 63 / 100

Reviewer: Lennert
Toegevoegd: 20 juni 2005
Meer Fellowship of the Ring: