Bowling Alone & Driven - Split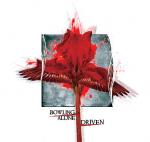 Het idee achter een split-EP heb ik altijd fantastisch gevonden. Twee bevriende bands persen eigen materiaal op een schijfje en presenteren dit samen aan de buitenwereld. Zowel Bowling Alone als Driven geeft ons hun visie en interpretatie op moderne harde gitaarmuziek. Deze split is bij vlagen vermakelijk, maar hoge toppen worden er niet gescheerd.
Bowling Alone speelt een toegankelijke mix van gitaartechnische New Wave Of American Metal en experimentele hardcore. Ze hebben twee goede songs neergepend die dynamisch en afwisselend zijn. Twee mankementen kan ik u echter niet onthouden: de cleane zeurende zanglijnen van zanger Javier (de rest van zijn vocalen zijn wel te pruimen) komen infantiel over en de liefdesteksten zijn veel te zoetsappig. Ik denk dat de heren nog wel een streepje beter kunnen.
De twee nummers van Driven zijn al opgenomen in 2002 en deze heren bouwen meer sfeer op ('11the Hour') dan hun splitgenoten maar de nummers zijn niet afwisselend genoeg en kabbelen te lang voort. Er wordt hier ook hard gewerkt aan dynamiek maar de uitbarstingen van Driven zijn niet hevig genoeg. Na het rustige intermezzo tijdens 'What Becomes Of The Broken Hearted' zou er eigenlijk een genadeloze uitbarsting moeten komen, maar deze ontbreekt.
Tracklist:
Bowling Alone:
1. Venus
2. What Becomes Of The Broken Hearted
Driven:
3. 11th Hour
4. Outshining Leviathan

Reviewer: Kristof
Toegevoegd: 16 juni 2005
Meer Bowling Alone & Driven: