various - Recollection 2: Relapse Video Collection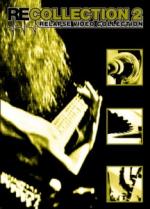 Relapse is een van m'n favoriete labels en het is vooral sinds de verbreding van z'n muzikale spectrum een van de belangrijkste labels om te volgen als je geïnteresseerd bent in vernieuwende en/of (doorgaans 'en') ijzersterke extreme muziek. De nieuwe dvd met daarop zeventien clips onderstreept dat nog maar eens. Het geheel vormt een goede vertegenwoordiging van waar Relapse voor staat, op zowel muzikaal, visueel als conceptueel gebied.
Met veel Relapse-bands kan ik me goed vereenzelvigen en vernieuwende entiteiten als Mastodon, Neurosis, Burnt By the Sun en Today is the Day beschouw ik dan ook vanzelfsprekend als de totale coolheid in menselijke vorm geïncarneerd. Deze bands maken hun clips zoals je het van ze verwacht; Mastodon's March of the Fire Ants (al lang gezien op de Relapse website natuurlijk) is opvallend, sfeervol en een beetje verontrustend, terwijl Neurosis garant staat voor duistere scapes die op een vreemde manier psychedelisch op de geest werken. De andere twee bands worden op een meer eenvoudige, 'down to earth' manier vertegenwoordigd, voor zover dat opgaat voor een geschifte band als Today is the Day.
Met clips van Nile, Dying Fetus, Skinless, Suffocation en Cephalic Carnage is ook de 'boze-mannen-metal' zwaar van de partij. De eerste twee zijn aardig maar vrij onopmerkelijk, echter Skinless maakt dat ruimschoots goed met hun amateuristisch gefilmde deathmetal-hooligans-knok-feestje, waarbij rake klappen vallen! Geweldig om zo'n stel barbaren elkaar te lijf te zien gaan, begeleid door een stevig potje brute herrie. Fysiek geweld staat ook centraal in de nieuwe video voor Suffocation's Synthetically Revived, en de clip van Cephalic Carnage is alleen al de moeite waard omdat drumgod John Merriman in beeld is.
Blijven over het aardige Burst (helaas qua geluidskwaliteit een beetje een domper), Dysrhythmia (een energieke instrumentale jam), Alchemist (een van de meest unieke bands van Relapse, met een sfeervolle clip) The End (helaas een ouder nummer met een weinig imponerende video), het ambient project Vidnaobmana (niet echt op z'n plaats tussen al dat high-energy geweld) en twee clips van Amorphis, die de fans natuurlijk al kennen van de Chapters compilatie.
Al met al kent deze dvd een goede prijs-kwaliteitverhouding. Leuk om te kijken met wat kameraden, onder het genot van een biertje. Of twee. Per clip natuurlijk. Enfin, Relapse rules.
Tracklist:
1. Mastodon - March of the Fire Ants
2. Nile - Sarcophagus
3. Neurosis - Stones from the Sun (edit)
4. Burnt by the Sun - Forlani
5. Dying Fetus - One Shot, One Kill
6. Burst - Sculpt the Lives
7. Today is the Day - The Descent
8. Dysrhytmia -My Relationship
9. Amorphis - Alone
10. Skinless - From Sacrifice to Survival
11. Suffocation - Synthetically Revived
12. Alchemist - Solarburn
13. Neurosis - The Tide (edit)
14. The End - Her (Inamoratus)
15. Cephalic Carnage - Redundant
16. Vidnaobmana - Skin Strip
17. Amorphis - My Kantele (acoustic version)
Reviewer: Patrick T.
Toegevoegd: 12 oktober 2004