various - Roadrunner Roadrage 2004 (dvd)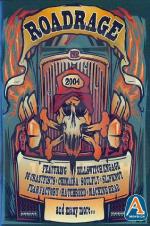 Vorig jaar toen de tweede Roadrage dvd van Roadrunner Records uitkwam stelde ik de vraag "Gaan ze dit nu elk jaar doen?" Het antwoord hierop blijkt dus te zijn: ja.
Ook op deze derde dvd staan weer meer dan 20 videoclips van bands op Roadrunner Records. Veel nieuwe, en een paar iets oudere. Dit keer geen oude Sepultura, Type O Negative of Life Of Agony clips, maar wel nieuwe clips van oudgedienden Fear Factory, Machine Head en Soulfly. Natuurlijk ontbreekt ook Slipknot niet, en ook van de Slipknot-sideprojects Stone Sour en Murderdolls staan er clips op. Ook de iets kleinere namen ontbreken niet. Chimaira, Ill Niño en Everytime I Die worden met twee clips vertegenwoordigd, en ook van Twelve Tribes, Hatebreed, 36 Crazyfists, Killswitch Engage en 40 Below Summer staan er clips op deze schijf. Liefhebbers van de huidige generatie Roadrunner bands kunnen dus hun hart ophalen met deze dvd.
Tracklist:
1. Slipknot - Duality
2. Soulfly - Prophecy
3. Killswitch Engage – Rose Of Sharyn
4. Ill Nino - This Times For Real
5. Ill Nino - How Can I Live
6. DevilDriver I Could Care Less
7. 36 Crazyfists - At The End Of August
8. Red Tape - Stalingrad
9. Fear Factory - Cyberwaste
10. Machine Head - Imperium (uncensored version)
11. Dirty Americans - Strange Generation
12. Chimaira - Pure Hatred
13. Chimaira – Powertrip
14. Every Time I Die - Ebolorama
15. Every Time I Die - I Been Gone A Long Time
16. Scarlet - Untitled
17. Stone Sour - Bother
18. Murderdolls - Love At First Fright
19. Hatebreed - This Is Now
20. From Autumn To Ashes - The Royal Crown Vs Blue Duchess
21. 40 Below Summer - Self-Medicate
22. To My Surprise - In The Mood
23. Twelve Tribes - Venus Complex
24. Thornley - So Far, So Good
25. Nickelback - Figured You Out
26. E-Town Concrete - Punching The Walls
Reviewer: Tonnie
Toegevoegd: 6 september 2004