Infernäl Mäjesty - One who points to death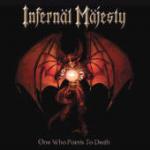 Yeah! Ook de heren van Infernäl Mäjesty zijn terug! In 1987 waren deze Canadese thrashers verantwoordelijk voor de legendarische cult schijf 'None shall defy' maar daarna werd het plots vrij stil rond de band. In 1992 verscheen nog 'Creation of Chaos' en in 1998 'Unholier than Though' maar die konden de kwaliteit van het debuut niet evenaren. Vier jaar geleden verscheen er nog een live album 'Chaos in Copenhagen' maar daarna bloedde de band weeral dood.
De verrassing is dus groot als je naar dit 'One who points to death' luistert, want dit klinkt geweldig! De hedendaagse line-up van de band bestaat uit zanger Chris Bailey, gitaristen Kenny Hallman en Steve Terror, bassist Eric Dubreuil en drumbeest Kris Deboer. Hoe de heren het voor elkaar gekregen hebben is mij een raadsel; de nummers klinken geïnspireerd, gedateerd (in dit geval is dat erg positief), pompend, bevatten lange instrumentale gedeeltes, zijn complex maar toch ook herkenbaar. Op sommige momenten moet ik denken aan het betere werk van Dark Angel en soms krijg ik het zelfde kippenvel als wanneer ik naar 'Hell awaits' van Slayer luister. Het album lijkt opgenomen te zijn met materiaal dat in 1987 al gedateerd was en dat draagt uiteraard bij tot de sfeer. Hebben ze hun ziel aan de duivel verkocht? Hebben ze epo genomen? Hebben ze voor veel geld nieuwe Dark Angel nummers gekocht? Wat het ook mag zijn, het doel heiligt de middelen. Misschien hebben ze deze nummers zelf wel geschreven!
Het moge duidelijk zijn dat ik dit album 'wel leuk' vind. Mensen die ook gecharmeerd zijn door dit specifieke soort thrash (met death-invloeden) zullen hier ook van smullen maar ik besef ook dat vele metalfans dit oubollig vinden en dat is op zich jammer. Ik geef toe, dit album had in de golden 80's kunnen uitkomen maar dat boeit eigenlijk totaal niet. Niet alle stilstand is achteruitgang en het bewijs daarvan is 'One who points to death'.
Tracklist:
1. Death of heaven
2. Pestilential eternity
3. Angels and acid
4. Honey tongue of Satan
5. Hysterion Proteron
6. Cathedral of hate
7. Virgin blood tastes purest at night
8. One who points to death

Score: 90 / 100

Reviewer: Kristof
Toegevoegd: 23 augustus 2004
Meer Infernäl Mäjesty: