Judas Priest - Reflections - 50 Heavy Metal Years Of Music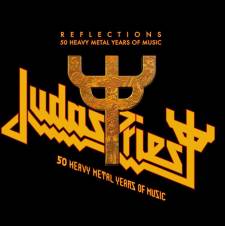 Hoera, de heavymetalband Judas Priest is vijftig jaar oud en dat wordt gevierd. Door de ellendige coronacrisis kon de geplande jubileumtour geen doorgang vinden, maar de festiviteiten beperken zich niet tot die op het podium. Judas Priest brengt namelijk een grootse boxset uit met daarin alle studio- en livealbums. Gelukkig zijn de vier (twee studio en twee live) platen met Tim 'Ripper' Owens, in tegenstelling tot in de Metalogy-box (2004), dit keer wel vertegenwoordigd.
Om de fans die dit alles al in huis hebben te verleiden tot aanschaf, bevat deze verzameling een aardig aantal officieel niet eerder uitgebrachte liveopnames en een enkele demo. Liefhebbers zullen hiervoor diep in de buidel moeten tasten. Priest brengt ter gelegenheid van het jubileum echter ook een bescheidenere verzamelaar uit: Reflections - 50 Heavy Metal Years Of Music. Uiteraard gebeurt dat in verschillende formats, waaronder felgekleurd vinyl.
Het grote pluspunt van Reflections is dat het eens niet de geijkte hits bevat. Dit maal geen Painkiller, Breaking The Law of Metal Gods. In plaats daarvan bevat de schijf zes 'onbekendere' studiotracks, waaronder Never The Heroes van het recente Firepower (2018) en Eat Me Alive van Defenders OF The Faith (1984), en negen livesongs.
De livenummers zijn het meest interessant, want daar zit een enkele tussen die niet in de boxset te vinden is. Het materiaal is afkomstig uit de gouden jaren van Priest, namelijk 1978 tot 1991. De opnamekwaliteit is naar behoren. Met name de klassiekers Victim Of Changes en Beyond The Realms Of Death klinken fantastisch. De tijdloze tracks etaleren waarom de band het al vijftig jaar volhoudt en zo groot heeft kunnen worden. Degelijke stadionopnames van The Hellion / Electric en het geweldig energieke Sinner vallen ook in de smaak.
Elke Judas Priest-fan kan de songs dromen. Bovendien zijn deze al diverse keren in liveversies uitgebracht. Voor hen is Reflections wederom een album in de categorie 'Heb ik er het geld voor over om ook deze verzamelaar in de kast te hebben staan?' De kwaliteit is in ieder geval dik in orde. Ondanks dat enkele van de bekendste nummers ontbreken, is Reflections een prima kennismaker voor nieuwe luisteraars. Het zijn simpelweg fantastische songs en het livemateriaal is van goede kwaliteit; een mooi overzicht van hoge studio- en livepieken van deze legendarische band.
Tracklist:
1. Let Us Prey / Call For The Priest
2. You Don't Have To Be Old To Be Wise
3. Fever
4. Eat Me Alive
5. All Guns Blazing
6. Never The Heroes
7. Dissident Aggressor (Live)
8. Out In The Cold (Live)
9. Running Wild (Live)
10. Victim Of Changes (Live, 1978)*
11. The Green Manalishi (With The Two Pronged Crown) (Live, 1981)*
12. Bloodstone (Live, 1982)*
13. The Ripper (Live, 1991)*
14. Beyond The Realms Of Death (Live, 1979)*
15. The Hellion / Electric Eye (Live, 1986)*
16. Sinner (Live, 1988)*

*Niet eerder uitgebracht
Reviewer: Walter
Toegevoegd: 11 oktober 2021
Meer Judas Priest: