Insomnium - Argent Moon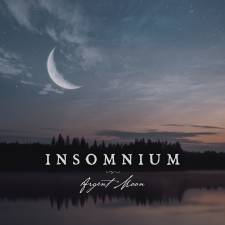 Ook Insomnium zag een tour de mist in gaan, toen na slechts één optreden in Verenigde Staten de pandemie de rondreis beëindigde. De Finnen konden nog wel naar eigen land terug om te bedenken wat ze met hun tijd zouden gaan doen. Het idee werd opgevat om een album met ballads te maken en de singles daarvan één voor één uit te brengen. Zo geschiedde. Het resultaat is de door de Finse versie van Luna Mezz'o Mare geïnspireerde, vier tracks tellende ep Agent Moon. Drie daarvan zijn verbonden en The Reticent gaat over de innerlijke onrust van het thuiszitten.
Dit keer dus geen blastbeats, maar een rustig tempo dat dicteert. Veel akoestisch gitaarwerk en toch ook nog wel aardig wat heavy riffs. Het schijfje begint wat dat laatste betreft vanaf de eerste seconde vertrouwd met The Conjurer, waarin verschillende melancholische melodieën fraai samenkomen en waarin de bassende frontman Niilo Sevänen grunt.
Daarna verandert er wel het een en ander. Het akoestische gitaarwerk krijgt meer ruimte en het nieuwste bandlid Jani Allan Kristian Liimatainen (The Dark Element, Cain's Offering, ex-Sonata Arctica) is veelvuldig te horen met zijn degelijke, cleane zangstem. De muziek kabbelt lekker voort en brengt je tot rust. Vermeldenswaardig zijn het toetsenwerk en de orkestraties, die zeker in The Reticent (solo) en The Wanderer het nodige toevoegen.
Voor sommige fans zal Argent Moon te soft zijn en te weinig afwisseling in tempo bevatten. Zij mogen zich verheugen op de toekomst, want de Finnen hebben aangekondigd dat toekomstig materiaal weer steviger en diverser zal zijn en dat deze ep een tussendoortje is, waarop geëxperimenteerd wordt. Het zijn met name The Conjurer en The Wanderer die hoge ogen zullen gooien bij de liefhebbers. Insomnium heeft in het verleden wel eens sterkere releases gemaakt, maar doodt de tijd tot een nieuwe full-length op een aangename, rustige manier.
Tracklist:
1. The Conjurer
2. The Reticent
3. The Antagonist
4. The Wanderer
Reviewer: Jeffrey
Toegevoegd: 9 oktober 2021