Enslaved - Caravans To The Outer World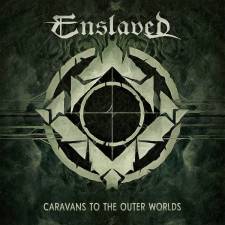 Van het een komt het ander. In eerste instantie was het de bedoeling dat Caravans To The Outer World slechts als losse track zou verschijnen, als een vervolg op en een verdieping van Utgard. Maar ja, als je er een fysieke release van wilt maken, komt er al snel meer bij kijken. Zodoende werden drie extra tracks gecomponeerd die te vinden zijn op een ep, die het verhaal vertelt van het verlaten van een desolate wereld op zoek naar nieuw thuis.
Het titelnummer is het beste visitekaartje. Het begint met geluiden alsof je je in de ruimte bevindt, maar vervolgt met een chaotisch deel en een prima extreme metal-riff. Het nummer vliegt alle kanten op met enerzijds blasts en tremoloriffs, anderzijds akoestisch gitaarspel en cleane zang. De secties sluiten goed op elkaar aan. Met name de overgang van het ruige naar het atmosferische gedeelte met akoestisch gitaarspel is fantastisch.
De andere drie tracks zijn jamsessie-achtige tracks. Intermezzo I: Lönnlig . Gudlig heeft als basis een doomriff en is voorzien van spacy geluiden. Ruun II - The Epitaph heeft een tribal vibe en bevat spiritueel getinte cleane zang. Intermezzo II: The Navigator is de meest progressieve tracks, waarin het toetsenwerk een wat prominentere rol heeft. Met name deze drie tracks hebben een heel cinematische en ruimtelijke uitstraling. Ze passen prima bij het concept, alleen zijn ze niet echt memorabel.
Caravans To The Outer World begint dus sterk, maar het vervolg is veel minder overtuigend. Alsof de drie tracks er nog even snel aan toegevoegd moesten worden. Volgens de Noren moest deze transitie-ep echter gemaakt worden om de volgende cyclus te kunnen beginnen. Sfeervol is het geheel zeker, maar ben je op zoek naar pakkende tracks, dan kom je met alleen het titelnummer wat bedrogen uit.
Tracklist:
1. Caravans To The Outer Worlds
2. Intermezzo I: Lönnlig . Gudlig
3. Ruun II - The Epitaph
4. Intermezzo II: The Navigator
Reviewer: Jeffrey
Toegevoegd: 2 oktober 2021
Meer Enslaved: