Axel Rudi Pell - Diamonds Unlocked II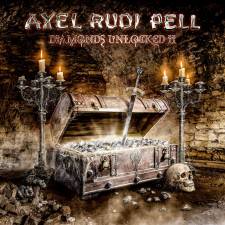 In 2007 heeft de Duitse gitarist Axel Rudi Pell het coveralbum
Diamonds Unlocked
uitgebracht. In plaats van steeds zijn eigen nummers te coveren door ze op elk nieuw studioalbum in een iets ander jasje te steken, bevat die plaat interpretaties van songs van andere artiesten. De coronapandemie heeft Pell doen besluiten om met een vervolg te komen. Net als andere muzikanten zit hij noodgedwongen thuis. Na een bepaalde periode begonnen zijn handen te jeuken om weer iets te ondernemen met zijn band. Aangezien
Diamonds Unlocked II
altijd al in de planning heeft gestaan, was nu het juiste moment om er echt werk van te maken.
Op het eerste deel staat een goede mix van hardrock- en popcovers. Dat is op het vervolg ook het geval, maar het aandeel van hardrock-acts is ditmaal beduidend minder. There's Only One Way To Rock (Sammy Hagar) en Lady Of The Lake(Rainbow) zijn de enige tracks van artiesten in de stijl van Pell's eigen muziek. Rock 'N Roll Queen van The Subways is een punkrocksong die je minder snel van hem verwacht. She's A Lady (Paul Anka) en Eagle (Abba) staan helemaal ver van de klassieke hardrocksound van de 61-jarige gitaarheld.
Voor Diamonds Unlocked II hebben alle tracks de Axel Rudi Pell-behandeling gekregen. Als je niet beter wist, zou je denken dat de originele versies van There's Only One Way To Rock en She's A Lady door een en dezelfde artiest zijn gemaakt. Het zorgt voor een gestroomlijnd geheel dat prettig beluistert. Eén keer slaat hij de plank mis en dat is met de Rolling Stones-cover Paint It Black. De middensectie bestaat uit een lange hammondorgel- en gitaarsolo die niks met het nummer te maken hebben en daardoor misplaatst zijn.
Diamonds Unlocked II is zoals een goed coveralbum hoort te zijn. De songkeuze is origineel en Axel en zijn bandleden hebben zich alle tracks eigengemaakt. Ondanks mijn kritiek dat de gitarist weinig verrassend uit de hoek komt op zijn eigen albums, zijn het wel altijd goed verzorgde producten. Dat is niet anders met deze coverplaat. Diamonds Unlocked II is een prima tussendoortje voor de fans.
Tracklist:
1. Der Schwarze Abt (Intro)
2. There's Only One Way To Rock (Sammy Hagar)
3. Lady Of The Lake (Rainbow)
4. She's A Lady (Paul Anka)
5. Black Cat Woman (Geordie)
6. Room With A View (Tony Carey)
7. Sarah (You Take My Breath Away) (Chris Norman)
8. Rock N' Roll Queen (The Subways)
9. Paint It Black (The Rolling Stones)
10. I Put A Spell On You (Screamin´Jay Hawkins)
11. Eagle (Abba)
Reviewer: Rene
Toegevoegd: 3 augustus 2021
Meer Axel Rudi Pell: