Lucifer's Fall - III - From The Deep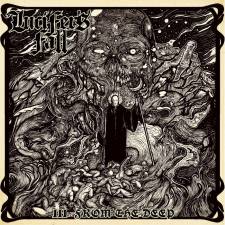 Lucifer's Fall is een tamelijk eigenzinnige band uit Adelaide, Australië, die behoorlijk actief is in het in alle soorten en maten uitbrengen van muziek. Dit keer is het een volwaardig album geworden en zoals de titel III - From The Deep al doet vermoeden, is dit inderdaad het derde studioalbum.
Het eigenzinnige zit hem vooral in het geen keuze willen maken tussen doom en de typische jaren tachtig heavy metal, hetgeen dan ook op dit album weer het geval is. Doomkrakers als From The Deep en Across The Void, dat richting het einde een lange meeslepende solo kent en begeleid wordt door de wanhoopskreten van Deceiver, worden moeiteloos afgewisseld met snelle hapklare metalbrokken als Trident Steel en Doom 'N' Roll, dat overduidelijke Venom-invloeden bevat. Doom-'n'-roll is feitelijk een mooie omschrijving van waar Lucifer's Fall muzikaal voor staat. Daarmee is de discussie of de band zich op doom of heavy metal moet richten, gesloten. Ongetwijfeld tot grote opluchting van de al eerder genoemde Deceiver, een metalfan in hart en nieren. Wie pure doom wil, kan terecht bij zijn andere band Solemn Ceremony.
Het plezier om metal te maken straalt van de muziek af en het lekkere ongepolijste geluid werkt daar zeker aan mee. Het geeft je een lekker en (h)eerlijk jarentachtiggevoel, zonder dat de muziek gedateerd overkomt. Doom-'n'-rollers onder u, sla uw slag!
Tracklist:
1. Trident Steel
2. The Cave
3. Man Of God
4. Doom 'N' Roll
5. Across The Void
6. Reverend Revenant
7. From The Deep
Score: 82 / 100

Reviewer: Vitus-Frank
Toegevoegd: 2 augustus 2021
Meer Lucifer's Fall: