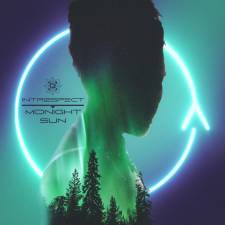 "Elk nadeel hep se voordeel", zei een bekende voetballer ooit. En hij had gelijk. In het geval van het Australische Intrøspect gaat die wijsheid in ieder geval op. De progressieve formatie wilde gaan touren ter promotie van de eerste ep
Ad Astra
(2019), maar kon door het welbekende virus de plannen in de ijskast zetten. Het kwintet ging niet bij de pakken neerzitten, maar pakte de instrumenten op en schreef materiaal voor de tweede ep
Midnight Sun
.
Daarop laat het vijftal muzikanten uit Sydney een mix horen van ambient, pop en moderne, djenty prog. Invloeden zijn er onder meer van TesseracT, Northlane, Karnivool en Periphery. Zangeres Felicity Jayne laat met haar kalme, melodieuze stem Intrøspect echter anders klinken dan die bands.
De nieuwe collectie komt wat gereserveerder en minder direct over dan het prima Ad Astra en heeft daardoor meer luisterbeurten nodig om te overtuigen. Het is wat gestroomlijnder dan voorheen. Zelfs de saxofoon is goed geïntegreerd in Itomori, dat de eerste minuten rustgevend en loungy is, maar steviger vervolgt.
Het meest overtuigend komen de Aussies anno 2021 voor de dag in Mjolnir en The Wisdom Of Mountains. Eerstgenoemde begint met een beklijvende, djenty riff en vervolgt met een wisseling van de melodieuze zang van Jayne en extreme vocalen van Liam McDonald (Infinite Illusion). De track bevat een rustig middengedeelte met pianowerk en eindigt met een krachtige breakdown.
The Wisdom Of Mountains imponeert vooral door de emotionele lading. Fragiele passages en stevigere stukken met harmonieus gitaarspel wisselen elkaar af. Stars End sluit het album mooi af. In deze ruim zeven minuten durende compositie neemt de groep wat meer risico. Dat mag het kwintet wat vaker doen, want het klinkt soms wat braaf en het blijft wat hangen in een lage versnelling.
Hoewel er krachtige secties zijn, bepalen melodie en ambient-elementen het karakter. Het introspectieve en spirituele overheerst, zoals mooi naar voren komt in het filmische Stars End. Midnight Sun komt dan ook niet heel krachtig over, maar vooral harmonieus en ruimtelijk. Het is een nette ep waarop het tempo laag ligt, de Australiërs niet veel risico nemen en het wiel niet opnieuw uitvinden. Intrøspect verrast dan ook niet. Deze tweede ep is desondanks een verzorgde, degelijke en vermakelijke collectie songs.
Tracklist:
1. Cosmic Arena
2. Mjolnir
3. Itomori
4. The Wisdom Of Mountains
5. Leap Of Faith
6. Stars End