King Gorm - King Gorm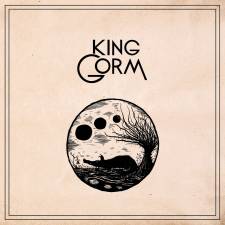 King Gorm is een in 2017 opgerichte, vierkoppige formatie uit San Diego. De spil van de groep is Francis Roberts, ook wel bekend van progrockband Old Man Wizard. Roberts loopt sinds 2015 al rond met muzikale ideeën voor songs die stevig geworteld zijn in seventies hardrock voorzien van een modern randje. Het duurt echter een tijd voordat de line-up van King Gorm rond is. In 2018 neemt de groep de debuutplaat op, maar door een ingelaste pauze verschijnt het album pas dit jaar.
King Gorm is een conceptalbum dat qua verhaal plaatsvindt in de Middeleeuwen. Kort gezegd gaat het over vier helden die de queeste hebben om het land Irondale te redden. Mede door de songteksten die vertellen over koningen, tovenaars en demonen doet King Gorm denken aan jarenzeventiggroepen als Uriah Heep en Rainbow. Bij vlagen is het allemaal wat cheesy, maar King Gorm doet er alles aan om de middeleeuwse mythische sfeer neer te zetten.
Op muzikaal gebied heeft King Gorm flink gespiekt bij Deep Purple, Uriah Heep en Rainbow, maar ook het recentere Ghost komt nadrukkelijk naar voren. Niet alleen door de brave, cleane vocalen van Roberts, maar ook de galopperende gitaarpartijen en het op de voorgrond tredende toetsenwerk in Freedom Calls en Beyond Black Rainbow doen sterk denken aan de Zweedse band. En dan wordt de plaat ook nog afgesloten met het instrumentale Ultimate Reality, dat door zijn songstructuur en kenmerkende toetsenpartijen flink gebaseerd lijkt te zijn op het Ghost-nummer Genesis.
Dat King Gorm hier en daar wat spiekt bij andere groepen, maakt de band goed door met prima geschreven songs te komen. Dit zijn geen halfbakken tribute-tracks. Het duo Irondale Burning/Song From Brighter Days en The Witch Of Irondale verdient daarbij nog een extra compliment vanwege de pakkende melodieën en sterke instrumentatie. De songs blijven makkelijk in je hoofd hangen en het is allemaal degelijk uitgewerkt. Zolang je van King Gorm geen vernieuwende dingen verwacht, heb je hier dan ook een leuke plaat aan.
Tracklist:
1. Intro
2. Freedom Calls
3. Four
4. Irondale
5. Song From Brighter Days
6. Beyond Black Rainbow
7. The Witch Of
8. Slaughter The King
9. Ultimate Reality
Score: 78 / 100

Reviewer: Hugo
Toegevoegd: 31 juli 2020
Meer King Gorm: