Motörhead - Hammered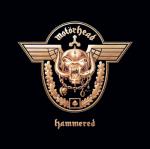 Op het moment van schrijven, staat Motörhead op het punt de cd Inferno uit te brengen. Maar eerst wilde ik het nog hebben over de laatste cd Hammered. De vorige cd We Are Motörhead was keihard en ouderwets snel, Hammered is een beetje meer ingetogen. Het is ietsjes melodieuzer, maar het geheel klinkt nog altijd als bereheavy rock 'n' roll. Alleen zijn de meeste songs meer mid-tempo. Er staan echter nog steeds snelle 'bastards' op zoals Red Raw, Voices Of The War en het geweldige Brave New World.
Net zoals de meest recente Motörhead-cd's, wordt er weer een heel klein beetje geexperimenteerd. In Walk A Croocked Mile horen we wat geknutsel met zanglijnen in het refrein. En Serial Killer is een 'spoken word' stukje met niemand minder dan WWF worstelaar Triple H. Dat is leuk om een keertje te beluisteren, maar ook niet meer dan dat. Met Mine All Mine en Shout Your Mouth staan er twee typische rocknummers op. En opener Walk A Croocked Mile bevat erg goede solo's van Phil Campbell.
Tja, wat moet ik verder nog vertellen. Motörhead levert altijd kwaliteit en dit keer is het weinig anders. De muziek neigt zoals altijd weer naar heavy metal, maar Lemmy houd het nog altijd op keiharde rock 'n' roll. Ik ben benieuwd wat de nieuwe cd Inferno zal brengen, maar die zal ook wel niet zo verschillen van wat we van Lemmy & co gewend zijn.
Tracklist:
1. Walk A Croocked Mile
2. Down The Line
3. Brave New World
4. Voices From The War
5. Mine All Mine
6. Shout Your Mouth
7. Kill The World
8. Dr. Love
9. No Remorse
10. Red Raw
11. Serial Killer
Score: 80 / 100

Reviewer: Rene
Toegevoegd: 20 mei 2004
Meer Motörhead: