Queensr˙che - The Verdict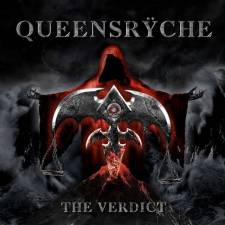 Laten weer eerlijk zijn. Eigenlijk is Queensr˙che Queensr˙che niet meer. Nu ook drummer van het eerste uur Scott Rockenfield niet mee trommelt, komt het aantal originele leden neer op twee. Er bestaat een kleine kans dat de slagwerker terugkomt na zijn ouderschapsverlof, maar er klinken ook geluiden dat de man niet terugkeert. De tijd zal het leren. Gitarist Michael Wilton en bassist Eddie Jackson houden de vlag dus dapper omhoog en dat recht hebben ze. Toch knaagt er iets.
The Verdict
lijkt vooral de plaat van Todd La Torre. De vocalist zingt, drumt en had een behoorlijke vinger in de pap tijdens het schrijfproces.
Logische vervolgvraag is of dat erg is? La Torre blijkt opnieuw een prima zanger en drummen kan hij ook. Queensr˙che komt bovendien een stuk heftiger en sneller voor de dag dan op de vorige twee albums. Beslist leuke cd's overigens, maar op de langere termijn niet wereldschokkend. Ik draai ze zelden en grijp toch terug op de platen tot en met Promised Land. Eerlijk gezegd vrees ik dat The Verdict hetzelfde leven beschoren is.
Toegegeven. Het nieuwe album klinkt verzorgd. Op de productie is nauwelijks iets aan te merken. Op de muzikale prestaties evenmin. Toch mis ik alle tien tracks die magie. Queensr˙che komt ietwat eendimensionaal voor de dag. De liedjes zijn er wel, klinken oké, maar vrijwel nergens spits je echt je oren. De melodieėn mogen de boeken in als weinig inventief en de malende riffjes missen iets memorabels. La Torre zingt op zich prima, al kan ik me na een draaibeurt geen zanglijnen voor de geest halen. The Verdict komt zodoende uit de test als degelijk. Je draait de schijf een keer of tien, knikt hier en daar wat mee, ontdekt wat aangename ritmes en zet de cd in de kast. Om die er misschien één of twee keer per jaar weer uit te halen.
Deze gedachtegang is voor mij niet nieuw. Hetzelfde gevoel bekroop me ook al bij Condition Hüman. Net zo'n leuk metalplaatje. Maar nooit meer dan leuk. Vakkundig? Jazeker. Goed geproduceerd? Absoluut. Progressief? Geen seconde. Wanneer één van de talloze Queensr˙che-klonen hiermee voor de dag was gekomen, had er waarschijnlijk geen haan naar gekraaid.
Tracklist:
1. Blood Of The Levant
2. Man The Machine
3. Light-years
4. Inside Out
5. Propaganda Fashion
6. Dark Reverie
7. Bent
8. Inner Unrest
9. Launder The Conscience
10. Portrait

Score: 70 / 100

Reviewer: Jeroen
Toegevoegd: 27 februari 2019
Meer Queensr˙che: