various - Armageddon Over Wacken 2003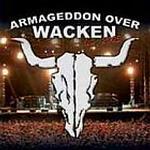 Tegenwoordig zie je het meer en meer: (Duitse) metalfestivals die cd's,video's en dvd's uitbrengen. Onlangs verschenen nieuwe dvd's van Summerbreeze, Wacken 2002 ('Wacken:Metal Overdrive') en het Rock Hard festival. Wacken Open Air is natuurlijk gekend voor zijn al zijn merchandise: badhanddoeken, stickers, tientallen t-shirts in alle kleuren van de regenboog, dvd's, kalenders, strings, enz. Binnenkort verschijnt er nog het verzamelboek '15 years of W.O.A.' en twee nieuwe dvd's (WOA roadshow 2003 dvd en de 'Wacken live 2003 dvd. Tot het zover is kunnen we de nieuwe dubbel live cd beluisteren waarop 26 verschillende bands voor twee uur muziek zorgen.
Het programma vorig jaar op Wacken was vrij middelmatig en op deze dubbel live cd staan dan ook nog eens de wat minder bekende groepen. Dus geen Twisted Sister, Slayer, Vader, Testament, Gamma Ray en Stratovarius (kortom: de smaakmakers van 2003 ontbreken). Welliswaar krijgen we nog live nummers voorgeschoteld van leuke bands als In Flames, het Nederlandse Callenish Circle, Sentenced, Sonata Arctica, Subway to Sally en Primal Fear. Maar niet veel mensen zitten te wachten op bands als Victory, Seventh One, Lordi en V8 Wankers.
Het geluid is gelukkig al stukken beter dan op vorige Wacken cd's en dvd's maar nog steeds klinkt het geheel mager en schel. Het geheel ziet er echter heel gelikt uit (mooie digipack) en in het bijhorende boekje staan zeker mooie foto's. Dit album, is dan ook als de vorige Wacken Open Air-producten, alleen de moeite voor mensen die er bij waren zoals ik. Maar toch moet dit volgende keer nog beter kunnen: leukere bands, leukere nummers en vooral eindelijk eens een betere productie!
CD 1:
1. In Flames - Clayman
2. Subway To Sally - Falscher Heiland
3. Sonata Arctica - 8th Commandment
4. Graveworm - Abhorrance
5. Sinner - Rebell Yell
6. Dew Scented - Cities Of The Dead
7. Rotting Christ - King Of A Stellar War
8. Metalium - Pain Crawls In The Night
9. Sentenced - Brief Is The Light
10. Seventh One - Hallowed Ground
11. Malevolent Creation - The Will To Kill
12. Dark Age - Know Me Strong
13. Primal Fear - Angel In Black
CD 2:
1. Lordi - Biomechanical Man
2. Holy Moses - Current Of Death
3. Apokalyptische Reiter - Metal Will Never Die
4. Kataklysm - Illuminantic
5. V 8 Wankers - This One Is For You
6. Freedom Call - Land Of Light
7. Victory - Are You Ready
8. Symphorce - Slow Down
9. Twisted Tower Dire - Axes And Honor
10. Callenish Circle - Obey Me
11. Circle II Circle - Watching In Silence
12. Raise Hell - Wicked Is My Game
13. Onkel Tom - Diebels Alt

Score: 69 / 100

Reviewer: Kristof
Toegevoegd: 23 april 2004
various - Armageddon Over Wacken 2003
Reactie van Een_Metalfan op 23-04-2004 om 20:07u

Misschien dat de Duitsers anders denken over de bands op dit werkje, het is neem ik aan voornamelijk bedoeld voor de Duitse markt. Daarnaast geven niet alle bands toestemming voor het gebruik voor opnames van het materiaal.
various - Armageddon Over Wacken 2003
Reactie van Kristof op 25-04-2004 om 20:20u

Over de keuze van nummers kan je gelijk hebben (gericht naar Duits publiek), maar de productie is bij Wacken producten altijd zo slecht.