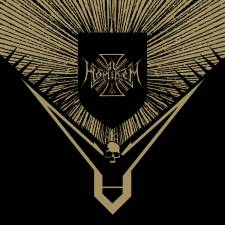 Het is in deze tijd van lange tenen en honger naar slachtofferrollen best noemenswaardig dat het Franse Osmose het uiterst controversiële en politiek incorrecte Ad Hominem nog steeds in de stal heeft staan. Het geesteskindje van Kaiser Wodhanaz viel voor veel mensen namelijk onder de noemer 'nationaal socialistische black metal' terwijl bovengenoemde al in meerdere interviews aangaf hier niets voor te voelen. Desalniettemin liet de keizer zich niet kennen en bleef hij lekker controversiële albums maken en spande de kroon met het fenomenale
Dictator - A Monument Of Glory
.
Tot
Climax Of Hatred
was Ad Hominem qua sound een niet erg opvallende blackmetalband. Op bovengenoemd album werd er productioneel een andere aanpak gehanteerd en bleek Kaiser een brutere strot te bezitten dan op de albums ervoor. Vanaf dit album namen ook de black 'n roll- en industrial-invloeden toe. Zo heeft
Dictator - A Monument Of Glory
Fear Factory-achtige grooves en
Antitheist
passages die sterk aan bands als Carpathian Forest en Urgehal doen denken. Op
Napalm For All
wordt deze weg vervolgd. Het album gaat stevig van start met het pompeuze
AMSB
om daarna met het lekkere
I Am love
wat gas terug te nemen. In laatstgenoemde track is de liefde voor industrial goed hoorbaar. De heer Wodhanaz maakt gebruik van een zeer lage stem die perfect aansluit bij het karakter van deze song. Ik moet even denken aan bands als Type O Negative en zelfs Rammstein, zonder dat de blackmetal-elementen verdwijnen.
Consecrate The Abomination
is een lekkere black 'n roll-track met thrashy polka's en catchy hooks. Dit nummer doet met zijn melodieuze baslijnen en naargeestige gitaarakkoorden aan Shining ten tijde van
The Eerie Cold
denken. Dit wil zeggen dat deze plaat nu al ontzettend veelzijdig is en dit smaakt naar meer. Zo gaat deze schijf verder met de titeltrack die ook prima als opener had kunnen fungeren. Hier zijn wat hardcore-invloeden terug te horen die bijzonder aanstekelijk werken. Tijdens meezinger
Goatfucker
is het beest echt los en ik ben ontzettend benieuwd wat dit nummer live teweegbrengt (al bestaat er weinig kans dat deze band in Nederland te zien zal zijn).
Productioneel valt er weinig aan te merken op deze schijf. De nuance tussen bas en gitaar is dan ook perfect te noemen. De baspartijen bevatten een klein beetje distortion, maar net genoeg om niet te verzanden in een ondefinieerbare brij van geluid. Ondanks dat de songs wederom zijn gecomponeerd door één persoon klinkt deze napalmaanval als een doorgewinterde band.
Naast het geschal van mijn loftrompet moet ik toch een kanttekening plaatsen. Componist Kaiser bewijst met
I Am Love
dat hij uitstekende mid-tempotracks kan schrijven, maar ik mis hier en daar toch de denderende blastbeat-passages die op voorgaande albums ruimschoots aanwezig zijn. Wél is er meer ruimte voor meezingrefreinen en mooie melodieen zoals in
Imperial Massacre
en het Black Sabbath-achtige
You Are My Slut
te horen zijn, maar af en toe even wat kilometers plankgas had mijn waardering omhoog geschroefd.
Toch moet ik concluderen dat Ad Hominem een ware ontwikkeling doormaakt en eigenlijk geen slecht werk levert en per album beter wordt. Deze schijf is een absolute aanrader voor de liefhebber van bands die het blackmetalgeluid een compleet eigen draai geven. Aanschaffen die hap!
Tracklist:
1. AMSB
2. I Am Love
3. Consecrate The Abomination
4. Napalm For All
5. Goatfucker
6. V. Is The Law
7. Imperial Massacre
8. Bomb The Earth
9. You Are My Slut
10. Vatican Gay