Motörhead - Under Cöver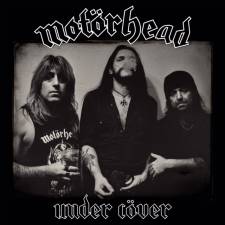 De tijd gaat snel. Het is alweer bijna twee jaar geleden dat Lemmy Kilmister het tijdelijke bestaan verruilde voor het eeuwige. Sindsdien gaat er bijna geen concert of festival voorbij zonder dat er aan hem een nummer wordt opgedragen. Er wordt wel eens gezegd dat iedereen gelijk is zodra er een tuintje op je buik ligt, maar de mythe rondom Lemmy is na zijn dood alleen maar groter geworden. Hierdoor blijft de herinnering aan de legendarische frontman springlevend.
Voor het platenlabel zit er echter niks anders meer op dan het uitbrengen van live-materiaal en overbodige verzamelaars. Zo lagen er nog eerder onuitgebrachte covers van David Bowie's Heroes en Rockaway Beach van The Ramones op de planken, waar voor het gemak maar een coveralbum omheen geknutseld is. De rest van het materiaal was al eens te horen op eerdere releases van de band.
Nu willen covers regelmatig verkeerd uitpakken of lachwekkend slecht zijn, maar Motörhead wist altijd wel raad met andermans muziek. Zo ontbreken de memorabele vertolkingen van God Save The Queen, Whiplash, Breaking The Law en de waanzinnige cover van Sympathy For The Devil niet op deze plaat. Under Cöver mag dan wel niet meer zijn dan knip-en-plakwerk, het is in ieder geval geen gedrocht zoals de Graveyard Classics-reeks van Six Feet Under.
Voor de rest valt er bar weinig te zeggen over deze compilatie. Voor de Motörhead-fan is de toegevoegde waarde nagenoeg nul, terwijl het album uitsluitend voor deze doelgroep bedoeld lijkt. Het vat zal echter voorlopig nog niet leeg zijn en ik verwacht dat Under Cöver slechts de eerste zal zijn in een hele reeks overbodige releases.
Tracklist:
1. Breaking The Law (Judas Priest)
2. God Save The Queen (Sex Pistols)
3. Heroes (David Bowie)
4. Starstruck (Rainbow)
5. Cat Scratch Fever (Ted Nugent)
6. Jumpin' Jack Flash (The Rolling Stones)
7. Sympathy For The Devil (The Rolling Stones)
8. Hellraiser (Ozzy Osbourne)
9. Rockaway Beach (The Ramones)
10. Shoot 'Em Down (Twisted Sister)
11. Whiplash (Metallica)
Reviewer: Matthijs
Toegevoegd: 17 november 2017
Meer Motörhead: