Dark Temple - Dark Temple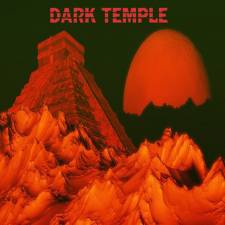 Scifi en stoner; deze twee trefwoorden geven de muziek van het Australische Dark Temple het beste weer. De viermansgroep uit Melbourne komt dit jaar met zijn eerste release, een vijf tracks tellende ep. Op het eerste gehoor valt vooral het toetsenwerk en het gebruik van scifi-geluidseffecten op. Op deze ep klinkt Dark Temple bij vlagen als Ghost, overgoten met een interstellair en experimenteel sausje.
Het openingsnummer Gods In The Sky is illustratief voor het geluid van Dark Temple. Het nummer is net als de andere songs mid-tempo, waarin de nadruk ligt op de ritmesectie. Vooral de basgitaar is goed hoorbaar, wat in dit geval een pluspunt is. De zang van Ryan Brown (tevens gitaar, toetsen en effecten) is clean, maar continu voorzien van effecten. In de pakkende refreinen van Gods In The Sky en False Prophets lijken de Australiërs erg hun best te doen om op Ghost te lijken. Het bijna zeven minuten durende No Return is de meest complete compositie van Dark Temple. Ook hier vormt de ritmesectie een sterk fundament en zijn vooral de laatste instrumentale minuten, bestaande uit een kalme gitaar- en keyboardsolo, een hoogtepunt.
Ook False Prophets, met zijn naar Queens Of The Stone Age smakende riffs, mag er zijn. Deze track eindigt met een prima instrumentaal stuk. Hell's Closing In is minder indrukwekkend. Er ontbreekt vooral een spanningsboog. Het negen minuten durende Black Planet begint met een lekkere gitaarriff, waarbij de melodie tegelijkertijd door de toetsenist gespeeld wordt. Het nummer krijgt hierna een drastische wending wanneer de band een experimentele zijweg inslaat, bestaande uit vervreemdende scifi-geluidseffecten. De basis van de song wordt vervolgens weer opgepikt, waarna het toetsenwerk en de geluidseffecten weer vrij spel krijgen. Het is jammer dat de riff van het begin later niet meer terugkomt, waardoor het nummer een beetje doodbloedt.
Dark Temple is een interessante release met enkele sterke composities. Foutloos is de ep niet en het scifi-element zal niet iedereen aanspreken. Desondanks laten de Australiërs horen dat ze qua innovativiteit genoeg te bieden heeft. Dit eigenzinnige Dark Temple is een welkome aanvulling in het stonerlandschap.
Tracklist:
1. Gods Of The Sky
2. No Return
3. False Prophets
4. Hell's Closing In
5. Black Planet
Reviewer: Hugo
Toegevoegd: 17 november 2017
Meer Dark Temple: