Stream Of Passion en Morning
Op 24 april 2008 in Effenaar, Eindhoven
Een review door Hans
Foto's door Hans
Volle bak in de Effenaar. De euforie die Stream Of Passion heet leeft duidelijk nog onder het rock- en metalpubliek, want men was massaal op komen dagen om te zien (net als ik) wat de gevolgen zijn van het opvullen van de vacatures Lucassen, Linstruth en MilliŠn.
Aan Morning de eer om te openen. Ook Morning timmert aardig aan de weg want op een haar na heeft de band het felbegeerde platencontract op zak. Vanavond kregen we dan ook een leuke mix voorgeschoteld van oudere en nieuwe nummers. Het publiek was erg enthousiast, net als de band overigens die ik live nog nooit heb zien of horen verzaken. Zangeres en frontvrouwe Saskija van Heugten zong de sterren foutloos van de hemel; ik vraag me af of de in de zaal aanwezige Arjen Lucassen (en Lori Linstruth) deze jongedame nu in de kijker hebben voor een volgend (Ayreon?-)project...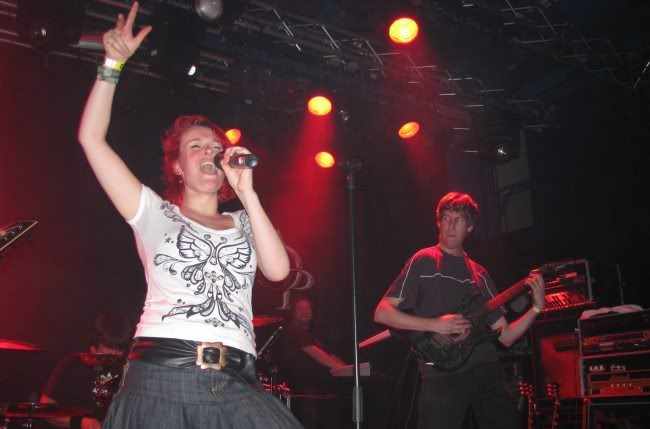 Dan Stream Of Passion; Alleen zangeres Marcela Bovio, bassist Johan van Stratum en Davy Mickers zijn nog over van de originele line-up; de heren Eric Hazebroek en Stephan Schultz hebben de zware taak om Arjen en Lori te doen vergeten, terwijl Jeffrey Revet de toetsen van Alejandro MilliŠn heeft overgenomen.
Nu is het uiteraard niet fair om de vergelijking met de eerste line-up zwartwit te zien; deze setting verdient een eerlijke eigen kans, met deels oud materiaal en een aantal nieuwe nummers. Alhoewel het gitaargeluid wat flets was en niet altijd even prettig gemixt brachten beide heren het er aardig van af. Keyboardspeler Revet was vaker niet te horen dan wel, en dat is jammer want dat maakt de sound van Stream Of Passion wel zo sfeervol. Drummer Davy Mickers was goed in vorm (drums maar half doorversterkt?), evenals frontvrouwe Marcela Bovio, die wederom goed bij stem was en qua persoonlijkheid de band voor een groot deel nu zelf moet dragen. Daar slaagde ze wonderwel in, met haar frÍle postuur maar gouden keeltje. Het nieuwe songmateriaal klonk aardig, maar studio en live zijn vaak twee heel verschillende dingen..In ieder geval maakte men de fans er nieuwsgierig genoeg mee. In de toegift kwam nog een verrassing voorbij: Ayreon's Computer Eyes werd de zaal in geslingerd, tot grote vreugde van het toch al enthousiaste publiek.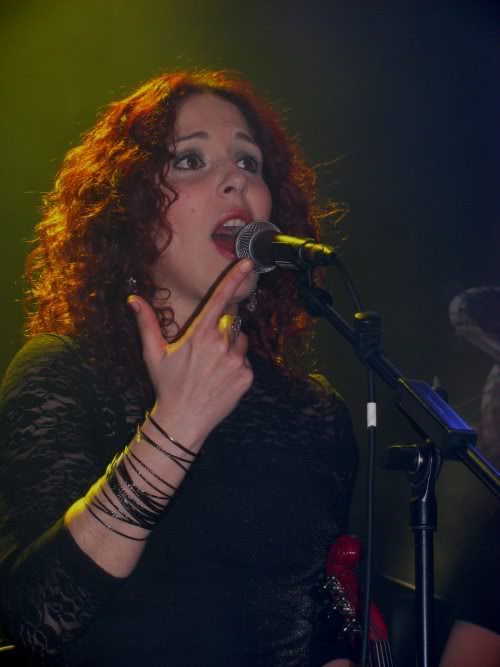 Ik kan niet anders dan concluderen dat Stream Of Passion nog leeft en hard aan de weg timmert. Nu nog een label wat het nieuwe album gaat uitbrengen (dat geldt ook voor Morning), dan kan eenieder verder gaan genieten van deze twee prima acts. Dat deed men na de show met de ruimhartige meet and greet die de band had aangekondigd en die tot in de late uurtjes heeft geduurd.
klik op de foto's voor grotere versies
Reactie van Luis op 03-04-2013 om 12:53u

---
My programmer is trinyg to convince me to move to .net from PHP. I have always disliked the idea because of the costs. But he''s tryiong none the less. I''ve been using Movable-type on a variety of websites for about a year and am anxious about switching to another platform. I have heard great things about blogengine.net. Is there a way I can import all my wordpress content into it? Any kind of help would be really appreciated!