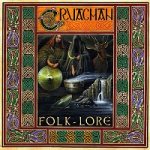 Folk-Lore is het derde album van de Ierse band Cruachan. Met de single
Ride On
kregen we al een voorproefje van dit album, maar toch duurde het nog enkele maanden voor het echt uit kwam.
Net als op de eerste twee albums, Tuatha Na Gael en The Middle Kingdom, speelt de band weer hun eigen stijl, en het lijkt erop dat Cruachan nu de perfecte balans gevonden heeft tussen metal en traditionele Ierse muziek.
Het album opent met een erg politiek getint nummer, Bloody Sunday. Dit gaat over dezelfde gebeurtenissen als U2's Sunday Bloody Sunday, waarbij nogal wat doden vielen tijdens een demonstratie, in 1972 in Ierland. De overige nummers zijn minder politiek gericht, en gaan meer over Ierse mythes en legendes. Maar goed, opener Bloody Sunday is gelijk een lekker snel, opzwepend nummer, met een lekkere melodie. In hetzelfde tempo gaat het instrumentale nummer The Victory Reel door.
Death Of A Gael is wat rustiger, en gaat over Viking invasies in Ierland. In dit nummer is goed te horen wat voor mooie stem zangeres Karen Gilligan heeft. En ook het instrumentale stuk erin is schitterend. The Rocky Road To Dublin is een beetje een gek nummer. Op een lekker snel tempo zingt bandleider Keith Fay een traditioneel Iers lied, waar de band nieuwe muziek onder gezet heeft. Het geheel klinkt erg vrolijk, met nog wel lekker zware gitaren tussendoor. Heel apart, maar wel heel lekker.
Het snelle, zware Ossian's Return is een van de beste nummers op het album. Afwisselend zingen Karen en Keith, in een lekker heavy nummer. En ook The Children Of Lir komt met een lekker tempo voorbij. Maar daarvoor komt nog het rustige Spancill Hill, waarop Shane Mac Gowen (die we wel kennen van The Pogues) de vocalen voor zijn rekening neemt. Ride On was al eerder op single uitgebracht. Dit is een duet tussen Karen en Shane Mac Gowen. Shane is overigens ook de producer op dit album, en zingt dus ook nog een paar deuntjes mee. Susie Moran is een heel gevoelig, rustig nummer, en is een eerbetoon van Keith aan zijn oma. Het album eindigd dan weer lekker snel en agressief met Exciles, tenzij je de digipack versie hebt met bonusnummer To Invote The Horned God, wat ik helaas mis.
Al met al een prima opvolger van The Middle Kingdom. Met Folk-Lore heeft Cruachan haar beste album tot nu toe afgeleverd.
Tracklisting:
1. Bloody Sunday
2. The Victory Reel
3. Death Of A Gael
4. The Rocky Road To Dublin
5. Ossian's Return
6. Spancill Hill
7. The Children Of Lir
8. Ride On
9. Susie Moran
10. Exiles