CanEyeScrew - Brother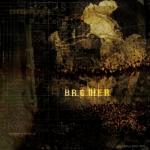 Het mooie aan 'Brother' is dat de Rotterdammers iets durven. Ze spelen geen standaard emocore, metalcore of nu-metal maar hebben een eigen schepsel gebouwd. Als basis gebruiken ze geen herhalende metalriffs maar afwisselend basspel en dito drumwerk. Ze proberen ook geschift en gevaarlijk over te komen wat af en toe aardig lukt. Ondanks de hang naar progressie en variatie is de stempel 'metalcore voor de volgende generatie' te genereus.
Opener 'Brother' heeft de meeste hitpotentie en zal wellicht een standaardnummer zijn in de CanEyeScrew setlist. 'Forget Me Never' is een stuk moeilijker te behappen en met een beetje fantasie kan je dit omschrijven als Primus neukt System Of A Down met als resultaat een zenuwachtige song die nergens losbreekt. Opbouwen en dan geen climax? Dat moet beter kunnen jongens! 'DJ God' bevat nog een flirt Bee Gees (rechtstreeks gestolen) en weet me niet echt te raken. Er wordt afgesloten met het goede 'First Steps' dat een sfeervol en gedurfd intermezzo blootgeeft.
CanEyeScrew laat interessante dingen horen maar de kritische liefhebber mist toch wel iets. Wat er juist ontbreekt, kan ik niet omschrijven maar het geluid mist nog iets om echt op te vallen. Wellicht dat nog meer optredens en oefensessies ervoor kunnen zorgen dat het op zich al karakteristieke geluid wordt verbreed. Voor een eerste mini cd een zeer behoorlijke en bij vlagen moedige poging.
Tracklist:
1. Brother
2. Forget Me Never
3. DJ God
4. First steps

Score: 65 / 100

Reviewer: Kristof
Toegevoegd: 22 mei 2005
Meer CanEyeScrew: