Paradise Lost - At The Mill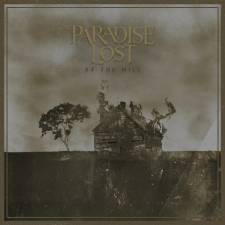 Paradise Lost heeft de laatste tijd nogal wat te vieren. Vorig jaar de jubilea van het debuut Lost Paradise (1990) en Draconian Times (1995), dit jaar de vijftigste verjaardag van zanger Nick Holmes en het jubileum van Gothic (1991). Helaas gaan die bijzondere momenten niet gepaard met grootse optredens of tours, dus was het zoeken naar een alternatief om de fans tegemoet te komen en nummers van de zestiende studiolangspeler Obsidian live te spelen.
Daarom werd er op 5 november vorig jaar een livestream georganiseerd vanuit The Mill Nightclub in Bradford. Die locatie, een voormalige molen, fungeert onder meer als oefenstudio voor de Engelse formatie, die meer dan dertig jaar geleden even verderop in Halifax werd opgericht. Het kwintet klinkt op At The Mill ook exact als een band die in de ruimte aan het oefenen is. Er is namelijk geen publiek aanwezig en er zijn geen woorden van de frontman tussen de nummers door.
Het sobere geluid belicht de kern van de band. Er is geen overvloed aan effecten of lagen, slechts een backingtrack. Men gaat echter vooral terug naar de basis: vijf in het zwart geklede heren die gemotiveerd metal maken in een donkere ruimte. Hoewel de focus uiteraard op de zang van Nick Holmes en het kenmerkende gitaarspel van Gregor Mackintosh ligt, krijgt ieder bandlid in de mix voldoende ruimte om op te vallen. Bij Holmes moet het soms uit de tenen komen (Shadowkings), maar op een aantal andere momenten (onder meer in de donkere versie van Ghosts en een verbeten versie van As I Die) komt hij juist sterk voor de dag.
Opvallend is de ruimte die het basgeluid van Steve Edmondson krijgt. Zijn bijdragen zijn goed te volgen. Niet alleen zorgt zijn spel voor een zware ondertoon, maar ook voor een vollere sound. Luister maar eens naar de krachtige versies van Blood And Chaos en het gothic Ghosts.
Van het zestiende en meest recente album Obsidian (2020) komen de eerste drie tracks aan bod. Fall From Grace komt als tweede langs, halverwege horen we Ghosts en Darker Thoughts is de afsluiter. Ze passen prima tussen de vele vaste waarden die de tracklist sieren. Wel is de overgang van het tergend trage Beneath Broken Earth (van The Plague Within uit 2015) en het industriële So Much Is Lost (van Host uit 1999) vrij groot.
At The Mill is een geslaagde weergave van een bijzondere sessie in een lege doch karaktervolle ruimte. Deze release laat een Paradise Lost in goede vorm horen en biedt een gevarieerde setlist die meer dan de helft van de albums beslaat. De gelimiteerde digipakversie van de dvd/blu-ray bevat als extra's een Q&A-sessie en beelden van achter de schermen.
Tracklist:
1. Widow
2. Fall From Grace
3. Blood And Chaos
4. Faith Divides Us - Death Unites Us
5. Gothic
6. Shadowkings
8. Ghosts
9. The Enemy
10. As I Die
11. Requiem
12. No Hope In Sight
13. Embers Fire
14. Beneath Broken Earth
15. So Much Is Lost
16. Darker Thoughts
Reviewer: Jeffrey
Toegevoegd: 6 augustus 2021
Meer Paradise Lost: