Nils Patrick Johansson - The Great Conspiracy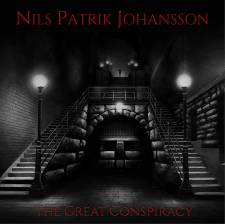 Met
Evil Deluxe
heeft de Zweedse zanger Nils Patrick Johansson in 2018 zijn eerste soloalbum uitgebracht. Het is een plaat waar hij tien jaar aan heeft gewerkt voordat die op de markt werd gebracht. Het vervolg
The Great Conspiracy
heeft hem blijkbaar minder moeite gekost, aangezien die anderhalf jaar later verschijnt. Bij zijn band Astral Doors heb ik de hoop op een goede heavymetalplaat allang opgegeven. Het solodebuut van Johansson smaakte echter naar meer, dus het is goed om te constateren dat Johansson zo snel met een opvolger is gekomen.
The Great Conspiracy is een conceptalbum over de onopgeloste moord op de Zweedse vicepremier Olof Palme. Hij werd in 1986 na een bioscoopbezoek op straat in de rug neergeschoten. De dader is nooit gevonden. 33 jaar na dato is de dood van Palme nog altijd een groot trauma voor veel Zweden. De opgewekte en theatrale toon van het album is daarom verwonderlijk. Zo gaat One Night At The Cinema over de dodelijke schietpartij, maar daar zou je geen vrolijke power metal bij verwachten. Gelukkig ben ik geen Zweed met een trauma van de moord, anders zou luisteren naar het album een ongemakkelijke bedoening zijn geweest.
Johansson heeft een stel goede nummers geschreven die gemaakt zijn om een verhaal te vertellen. Niet dat de songs op een geniale manier in elkaar overgaan, of dat er een terugkerend thema is. Alle nummers zijn muzikaal opzichzelfstaand. Het zijn in principe eenvoudige heavymetaltracks, maar onderling erg afwisselend. De keyboards zorgen voor een theatraal sfeertje. De knallende openingstrack The Agitator is razendsnel, Killer Without A Gun iets rustiger en Prime Evil traag als stroop. Maar laatstgenoemde bevat ook een korte versnelling, gevolgd door een totaal onverwachts Caraïbisch intermezzo.
The Great Conspiracy is een onderhoudend album voor de luisteraar die verrast wil worden, maar dat ook genoeg te bieden heeft voor hen die eenvoudigweg willen headbangen. Johansson geeft zoals altijd een sterke performance. Deze opvolger van Evil Deluxe is een goede stap voorwaarts. Wat mij betreft laat Johansson Astral Doors voor wat het is en concentreert hij zich volledig op zijn solocarrière.
Tracklist:
1. The Agitator
2. One Night At The Cinema
3. The Baseball League
4. Freakshow Superstar
5. March Of The Tin Foil Hats
6. Prime Evil
7. Killer Without A Gun
8. The Great Conspiracy
9. This Must Be The Solution
10. Requiem Postlude
Score: 80 / 100

Reviewer: Rene
Toegevoegd: 20 februari 2020
Meer Nils Patrick Johansson: