Sylvaine/Unreqvited - Time Without End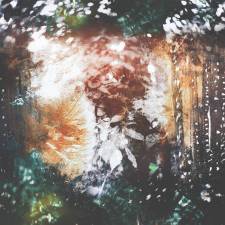 Eerst even een voorstelrondje. Sylvaine is een Française, die een drietal full-lengths en één ep op haar naam heeft staan. Ze is de vriendin van Neige van Alcest. Haar muziek kun je dan ook in die hoek vinden. Unreqvited is een Canadees die vier langspelers en twee ep's heeft uitgebracht. De multi-instrumentalist maakt post-black.
Beide muzikanten zijn vertegenwoordigd met twee nummers op deze split-ep. Ze laten een iets andere kant van zich horen dan we gewend zijn. Geen screams of metal op deze release (hoewel het post-rockende Meadows Of Elysium er wel bij in de buurt komt), maar tot de kern teruggebrachte composities, die dromerig van aard zijn.
No More Solitude is een reflectieve track (over de staat van de wereld) die al jaren in ontwikkeling is, maar nu eindelijk in zijn definitieve vorm op plaat is vereeuwigd. Sylvaine zingt hierin niet alleen op een andere manier dan we gewend zijn (pop), maar ze speelt ook nog eens piano.
Falling is donkerder van aard. Dit tweede nummer bevat akoestisch gitaarwerk dat aan de middenperiode van de discografie van Anathema doet denken. Daaraan zijn keyboardklanken toegevoegd. De zangeres verrast met een paar lage zangnoten.
Ondanks dat de rest van de ep voor Unreqvited is gereserveerd, nemen we nog geen afscheid van Sylvaine. Ze is namelijk gastvocaliste in Interwoven. Het nummer van zeven minuten heeft een opbeurende vibe dankzij de hemelse keyboardklanken en het heldere gitaargetokkel. De composities van Unreqvited zijn langer en gelaagder dan de eerste twee. De Canadees toont zich een prima componist. Hij voegt naarmate het nummer vordert orkestrale en drumpartijen toe, zodat een gelaagd geheel ontstaat. Het afsluitende, instrumentale Meadows Of Elysium is met zijn orkestrale shoegazende post-rock de stevigste track.
Time Without End is een zeer prettige release, waarop zowel Sylvaine als Unreqvited een andere kant van zichzelf tonen, maar tegelijkertijd herkenbaar blijven. Beide artiesten houden het hoge niveau vast dat we kennen van hun voorgaande releases. No More Solitude en Interwoven zijn de beste visitekaartjes, maar de andere tracks mogen er ook beslist zijn.
Tracklist:
1. No More Solitude (Sylvaine)
2. Falling (Sylvaine)
3. Interwoven (Unreqvited)
4. Meadows Of Elysium (Unreqvited)
Reviewer: Jeffrey
Toegevoegd: 7 februari 2020
Meer Sylvaine/Unreqvited: