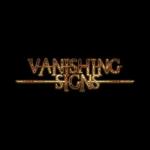 Eindelijk is het ervan gekomen: het rockproject waaraan Neil Otupacca jaren heeft gewerkt met veel verschillende muzikanten. De toetsenist, die je wellicht kent van zijn periode met de Zwitserse rockband Gotthard (1992-2003), bleef zoeken naar een geschikte vocalist(e) en kwam op een dag een videoclip tegen van Dilana Smith. Haar stem is wat de Siciliaan zocht en zodoende ligt het debuutalbum van Vanishing Signs in de winkels.
Vanishing Signs is een verzameling rocktracks in het straatje van Dio, Led Zeppelin, Deep Purple en Whitesnake. De songs hebben veel power en bevatten veel bijdragen op hammondorgel. Ook het basgeluid van N I c Angileri treedt regelmatig op de voorgrond, zoals in de cover House Of The Rising Sun, waarin hij soleert. Het is slechts één voorbeeld van vele waaraan je kunt horen dat er goede en geïnspireerde muzikanten aan het werk zijn.
De Zuid-Afrikaanse zangeres Dilana Smith, die in Nederland woont, is eveneens één van de smaakmakers op deze plaat. De beste visitekaartjes zijn The Right Time, No Regrets en Too Far From Never. Ze komt met veel memorabele refreinen. Haar zang is doorgaans stoer, krachtig en rauw, maar in That Ship Has Sailed laat ze haar melodieuze stem gelden en in Too Far From Never toont ze samen met Maggy Luyten de blues en soul machtig te zijn.
Vanishing Signs is evenwel een teamprestatie. Hoewel iedere muzikant de ruimte krijgt om te soleren, draait het om de liedjes zelf. Daarbinnen pakt iedereen zijn rol goed op. De songs ademen een live-gevoel, alsof je erbij bent in een klein zaaltje. Om dat kracht bij te zetten, eindigt de prima opener The Right Time, die wel iets heeft van een ruigere versie van Nobody's Wife van Anouk, met "Thank you, good night!"
Elk nummer heeft een eigen vibe. Zo is Tripping The Light lekker uptempo en Heavy Hammond een zware, trage rocker met een overtuigende Marcello Vieira op zang. Het titelnummer is een bombastische track dankzij symfonische keyboardpartijen en That Ship Has Sailed is de meest melodieuze track. Die variatie zorgt ervoor dat je je niet snel verveelt.
Aan de covers en de wisseling van vocalisten kun je horen dat het een project is. Het is dan ook behoorlijk wennen om de in 2010 overleden Steve Lee opeens te horen zingen. Neil en Steve zaten beiden ooit samen in Forsale. De cover van Rollin' On is een eerbetoon aan Lee, maar voelt niet op zijn plaats op deze release omdat deze flink afwijkt van de rest van het songmateriaal. Ook de cover van House Of The Rising Sun kan op gemengde reacties rekenen. Enerzijds is er beslist een eigen touch aan gegeven, anderzijds is het een wat overbodige interpretatie die niet veel toevoegt.
Verder valt er weinig te mopperen. Verwacht geen baanbrekende songs, maar nummers die lekker wegluisteren en een gemotiveerde groep kundige muzikanten laten horen. Het speelplezier spat ervan af. Er zit voldoende afwisseling in het songmateriaal. Bovendien scoren de mix van Paul Lani en de master van Andrea Bernardi een dikke voldoende. Het ene nummer is net iets beter dan het andere, maar over het algemeen overheerst tevredenheid.
Tracklist:
1. The Right Time
2. Tripping The Light
3. House Of The Rising Sun (The Animals-cover)
4. No Regrets
5. Heavy Hammond
6. Vanishing Signs
7. That Ship Has Sailed
8. Rollin' On (Forsale-cover)
9. Too Far From Never