Galloglass - Heavenseeker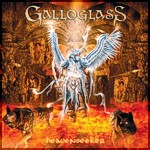 Ondanks de concurrentie die men tegenwoordig uit het zuiden krijgt blijft Duitsland nog steeds hofleverancier als het om kwaliteits-powermetal gaat. Galloglass viel in 2003 al op door de niet altijd even originele, maar goed uitgevoerde songs die door de gevarieerde zang van Carsten Frank en de toevoeging van een viool ver boven de middenmaat uitstaken. Platenmaatschappij Limb Music Productions is vanzelfsprekend ook over dit tweede album even lyrisch als over het eerste en meent dat: "Heavenseeker works like an infusion of fresh blood into the fossilized veins of the German Power Metal scene". Persoonlijk vraag ik me dan af of ze eigen bands als Wizard en Domain hier ook onder scharen, maar laten we het er maar op houden dat dit soort verkooppraatjes nu eenmaal nodig zijn.

Want laat ik eerlijk zijn, deze uitspraak is de waarheid als een koe. "Heavenseeker" is in ieder opzicht superieur aan zijn voorganger. Met een uitstekende productie (zoals we van LMP gewend zijn), een 15-koppig koor en gastbijdragen van Jeff Waters (Annihilator) en Curran Murphy (ex-Nevermore) op de lead gitaar, klinkt de band frisser en voller dan ooit tevoren. De fantasy teksten zijn nog niet volledig verdwenen, maar verdwijnen al steeds verder naar de achtergrond. In plaats van de gebruikelijke draken zijn de onderwerpen dit keer iets meer 'evil' van aard. Carsten zingt daarnaast beter dan ooit tevoren en laat in een nummer als 'After Forever' een zeer geslaagde grunt horen.

Zoals gebruikelijk bij power/speed metal zijn de dubbele basdrums veelvuldig te horen en volgen de strakke riffs en solo's elkaar in moordend tempo op. De viool en het koor zorgen hierbij voor een episch effect zonder (gelukkig?) zo bombastisch te worden als Rhapsody. Deze elementen komen allen het beste naar voren in songs als 'Heavenseeker' en 'Banished From Eternity' waar Carsten even gedreven klinkt als landgenoot Andy B. Franck (Symphorce/Brainstorm). De afsluitende ballad 'Kings Who Die' klinkt helaas dan weer minder origineel en spontaan dan het voorgaande geweld, maar steekt desalniettemin nog steeds boven de middenmaat uit.

Het lijkt me duidelijk voor iedereen dat ik bijzonder enthousiast ben en iedereen die weg was van het debuutalbum kan verzekeren dat dit album binnenkort in hun cd-rek dient te staan. Bij de limited edition zal naast twee bonustracks namelijk ook nog een dvd met een concert, een clip en nog meer extra's geleverd worden. Met een album als 'Heavenseeker' maakt Galloglass in ieder geval een goede kans zich uit de Duitse power metal underground te worstelen en een groter publiek aan te spreken. Voor mij de beste LMP release van het jaar.

Tracklist:
1. Burden of Grief
2. After Forever
3. Perished in Flames
4. Dawn of a new Age
5. Banished from Eternity
6. At the Shadowcross
7. To kneel is to suffer
8. Heavenseeker
9. Signs
10. Beyond the Mirror
11. Kings who die
12. Golden Years (Bonus Track)
13. Fragments (Bonus Track)
Score: 85 / 100

Reviewer: Lennert
Toegevoegd: 29 november 2005
Meer Galloglass: