Unothera - Broken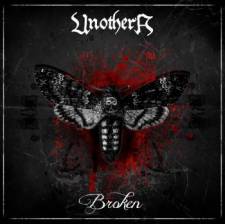 Unothera kent een korte geschiedenis als Alice Day. In haar korte bestaan (2013-2015) draagt laatstgenoemde middels
Surrender
bij aan de compilatie
Frisian Hard & Heavy vol.2
. Nadat de tweede line-up van Alice Day uit elkaar valt en een nieuwe niet van de grond komt, besluiten de overgebleven leden zonder zangeres verder te gaan en een naamswijziging door te voeren. De band bestaat momenteel uit drummer/gitarist Jelle Hamstra, toetseniste/gitariste/bassiste Janneke Smids en zanger Ferdinand Wanders.
Unothera is afgeleid van oenothera, de Griekse naam voor 'ezelsvanger'. De Teunisbloem, zoals deze in Nederland wordt genoemd, is een familie vaste planten. Veel daarvan bloeien 's nachts. Juist met die laatste betekenis associeert de band zich. De nachtbloeiers debuteren middels Broken, een ep van een kwartier. Daarvan zijn twee tracks als regulier te bestempelen. De andere drie zijn een symfonisch intro, een piano-intermezzo en een outro. Daarin spelen natuurverschijnselen als wind, regen en fluitende vogels een grote rol. Niet vreemd aangezien ze drie seizoenen voorstellen.
The Sum Of Contradictions is de eerste reguliere track. Het nummer gaat over twee overleden vrienden. Een pleegde zelfmoord en de andere verloor de strijd tegen kanker. De pijn, het verdriet en de onmacht zijn toepasselijk vertaald in zowel de teksten als de muziek. Het trio uit Leeuwarden speelt death/doom die geïnspireerd is door de jaren negentig. Denk aan Anathema, Katatonia en met name My Dying Bride.
Muzikaal zit het goed in elkaar. De riffs en leads in The Sum Of Contradictions blijven hangen en de extra laag met atmosferische keyboardklanken is van toegevoegde waarde. Vocaal is het minder overtuigend. Dat geldt vooral voor de cleane zang. Er zit wel een bepaalde oprechtheid en beleving in zoals Aaron Stainthorpe (My Dying Bride) die ook laat horen. De grunts scoren een voldoende. Unothera is bezig met het schrijven van nummers voor een full-length. Laten we hopen dat de line-up nu doorpakt en voortbouwt op de sterke punten.
Tracklist:
1. Hjerst
2. The Sum of Contradictions
3. Winter
4. Broken (Requiem)
5. Maitiid
Reviewer: Jeffrey
Toegevoegd: 25 februari 2017
Meer Unothera: