various - Too Legit For The Pit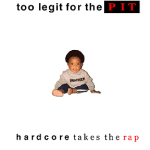 Deze leuke cd bevat 12 legendarische rapsongs die worden gecoverd door hardcore bands. Rap? Hardcore? Op een metal e-zine? Waarom ook niet! Persoonlijk heb ik een hekel aan alle rappers en hiphopgroepen van tegenwoordig, maar de jaren '80 stroming van rappers is toch belangrijk in de muziekgeschiedenis. Toen was het genre nog nieuw en inventief. Op deze verzamel cd staan dan ook van die legendarische raphits uit vervlogen tijden. En deze nummers worden dus gecoverd door bekende bands als Stretch long arm, E-town Concrete en Skarhead.
Ik moet zeggen dat ik de cd vrij sterk vind zowel qua songkeuze als uitvoering. Er is natuurlijk altijd wel een link geweest tussen hardcore en rap. Mijn favoriete nummers zijn 'Express yourself' dat een lekker punk nummer is geworden. "Deep cover' dat lekker stevig is uitgevoerd. Het sterk op het originele lijkende "The world is yours". En het lekker punky spring nummertje "The humpty dance"
Kortom een album dat ik tot mijn grote verbazing toch wel leuk vind. Nou ook niet denken dat ik opeens een rapfanaat word. Maar alles wat ik op dit schijfje heb gehoord, zorgt ervoor dat ik rap en hardcore toch niet zo snel mag benadelen zonder het gehoord te hebben. Hardcorefans hebben hier dus een leuk cd'tje aan, en rapfans die de klassiekers eens wat steviger willen horen zullen hier ook wel van kunnen genieten. Yo man, check da chit! Maar nu is het toch tijd voor een Nile album,haha.
Tracklist:
1. Stretch arm strong - Express yourself (NWA)
2. Candiria - Deep cover (Dr.Dre and Snoop dogg)
3. Throwdown - Baby got you back (Sir mix-a-lot)
4. Hoods - Mama said knock you out (LL cool J)
5. The movielife - I can's do nuttin'for ya man (Public enemy)
6. E-Town concrete - The world is yours (Nas)
7. Clocked in - New Jack Hustler (Ice-t)
8. F.O. The smack magnet - The humpty dance (Digital underground)
9. Skarhead - PSK! What does it mean? (Shooly D)
10. Bad luck 13 - White lines (Grandmaster flash)
11. Diehard youth - Bust a move (Young MC)
12. No redeeming social value - Fresh (Fresh 3 MC's)
Score: 75 / 100

Reviewer: Kristof
Toegevoegd: 20 maart 2003
various - Too Legit For The Pit
Reactie van Fear_Of_The_Dark op 21-03-2003 om 14:46u
Score: 50 / 100
Van rap naar metal wordt alleen maar beter,hoewel ik er nog geen fuck aan vind.Nile is idd stukkie beter hehe.