Mass Murder Machine - Good Day To Die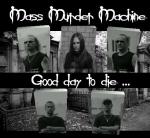 Bij een festivalbezoek in Duitsland kreeg ik ongevraagd deze promo-cd in de handen geduwd, vermoedelijk door een bandlid. De inhoud bleek bij thuiskomst gelukkig alleszins mee te vallen. Mass Murder Machine komt net als Sodom en plaatsgenoten Kreator uit de Duitse deelstaat Nordrhein-Westfalen. Het wekt daarom geen verbazing dat dit vijftal lekker smerige old-school thrash speelt, al gaan de vocalen meer richting een death grunt.
In 2003 liet deze band voor het eerst van zich horen middels de demo Receive Your Death, waarna de formatie uiteenviel. Vanaf 2006 is Mass Murder Machine weliswaar terug, maar drummer Marcus Lange is het enige overgebleven originele bandlid. Het gezelschap laat met deze korte demo echter horen dat er in de huidige samenstelling wel degelijk leven zit. Na een semi-akoestisch intro beukt het uitstekende The Earth, The Way, The Blood de luisteraar vakkundig plat. Vooral het refrein is een waar genot.
De titelsong valt vervolgens een beetje tegen, mede omdat de eenvoudige openingsriff rechtstreeks van Slayer gejat is. Desondanks vind ik het jammer dat deze demo zo kort is, want hij smaakt naar meer. Volgens hun website heeft Mass Murder Machine momenteel weer een vacature voor een gitarist, maar hebben ze voldoende songs geschreven om de podia onveilig te maken. Met een goede sologitarist er bij mogen ze van mij dan ook wel meteen een langere demo of een eerste volledige album inspelen.
Tracklist:
1. Intro
2. The Earth, The Way, The Blood
3. Good Day To Die
Score: 68 / 100

Reviewer: Gilbert
Toegevoegd: 15 oktober 2008
Meer Mass Murder Machine: