various - Rock S'Cool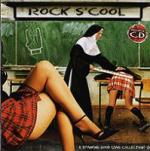 Rock S'Cool is een dubbel verzamelalbum die ons een les moet geven in de geschiedenis van onze geliefde genre. Zo krijgen we zes lessen die als thema's hard rock, heavy metal, power metal, thrash metal, hardcore en alternative hebben. Met als examen het bekendste deuntje van Motörhead. Een leuke opzet.
Maar als je beter oplet, zie je dat dit gewoon een onevenwichtig overzicht is van songs waarop SPV/Steamhammer de rechten heeft. Want als dit echt een onderwijsles zou zijn, dan zouden we Painkiller moeten krijgen in plaats van Bullet Train. En dat argument kun je bij bijna alle songs gebruiken. En als er al eens echte klassieker langskomt, dan is het van een onlangs verschenen live cd. Tevens slaat de les hardcore nergens op, want van de vijf songs is er maar eentje die eigenlijk onder het vakje hardcore hoort. Het idee is op zich leuk, maar het kan niet verbloemen dat dit gewoon een overzicht is van wat deze platenmaatschappij de laatste jaren heeft uitgebracht. Dus kijk naar de tracklist en de prijs en beslis dan maar zelf of je hier geld aan wilt uitgeven. Ikzelf zou er geen euro aan verspillen.
Tracklist:
CD 1:
Lesson 1: Hard Rock
1. Whitesnake - Fool For Your Lovin' (Live)
2. UFO - Lights Out (Live)
3. Heaven And Hell - The Mob Rules (Live)
4. Axel Rudi Pell - Rock The Nation
5. Doro - Burn It Up
Lesson 2: Heavy Metal
6. Judas Priest - Bullet Train
7. Saxon - Need For Speed
8. Metal Church - Ton Of Bricks (Live)
9. Beyond Fear - Scream Machine
10. Messiah's Kiss - The Ancient Cries
Lesson 3: Power Metal
11. Iced Earth - The Reckoning
12. Kamelot - When The Lights Are Down
13. Demons & Wizards - Terror Train
14. Freedom Call - Queen Of My World
15. Helloween - Dr. Stein
CD 2:
Lesson 4: Thrash Metal
1. Kreator - Reconquering The Throne
2. Sodom - Bibles And Guns
3. Destruction - Mad Butcher (Live)
4. Annihilator - Clown Parade
5. Grip Inc. – Ostracized
Lesson 5: Hardcore
6. Biohazard - Selloutv 7. Sepultura - Convicted In Life
8. Type O Negative - Dead Again
9. Hatesphere - The Reaper Of Life
10. Raging Speedhorn - How Much Can A Man Take
Lesson 6: Hardcore
11. Engel - In Splendour
12. Skinny Puppy - Politikil
13. Amplifier - The Consultancy
14. Zebrahead – Anthem
Finals:
15. Motörhead - Ace Of Spades (Live)
Reviewer: Kristof
Toegevoegd: 27 oktober 2007
various - Rock S'Cool
Reactie van da -Z- op 27-10-2007 om 18:35u

Inderdaad een leuk initiatief, maar het resultaat slaat nergens op. Sepulture en Type O Negative hardcore..?