Iced Earth - Iced Earth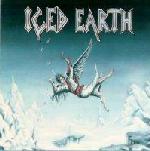 Allereerst ben ik het eens met
Forostar
dat Iced Earth vanaf the Dark Saga wat toegankelijker en daardoor wat (naar mijn mening) minder interressant is geworden. Iced Earth is net als Night of the Stormrider en Burnt offerings wat harder dan het latere werk. Maar goed, laat ik maar beginnen met de review.
Iced Earth staat voor een groot deel hetzelfde gevuld met nummers van de demo "Enter the realm" alleen zijn bepaalde nummers qua zang of tempo verandert. Het album begint met "Iced Earth" wat een heerlijk nummer is. Het begint met een gitaarintro waarna de drums knallend inkomen. Pas als de eerste zanger Gene Adam begint te zingen merk je een nadeel: zijn stem is niet krachtig genoeg en is een beetje te zacht. Voor de rest niet slecht maar ik hoorde dit album pas na de nummers met Barlow en het was daardoor even wennen. Maar goed, deze stem heeft ook wel iets.
"Written on the walls" is een mooi nummer, textueel mankeert eer trouwens aan geen enkel nummer wat. Schaffer is duidelijk net als zijn voorbeeld Steve Harris vanaf het begin van zijn carriere een prima songschrijver. Het nummer "Colors" is naar mijn mening een beetje nageaapt van "Killers" van Iron Maiden. (namelijk iemand die in de metro wordt vermoordt)
"Curse the sky" is mijn persoonlijke favoriet. Muzikaal heeft het niet zoveel om het lijf maar je kan het gewoon lekker meeschreeuwen. "Life and death" is wel aardig, niet bijzonder. De 2 instrumentale nummers "Solitude" en "The funeral" zijn prachtig om naar te luisteren. Als laatste "When the night falls" Een lang en melodieus nummer, een waardige afsluiter van het begin van de carriere van een topband.
Tracklist:
1. Iced Earth
2. Written on the walls
3. Colors
4. Curse the sky
5. Life and death
6. Solitude
7. The funeral
8. when the night falls
Score: 86 / 100

Reviewer: Lennert
Toegevoegd: 25 mei 2002
Koop dit album in
Meer Iced Earth:
Reactie van the_red_guy op 26-05-2002 om 14:51u
Score:
60
/ 100
Aardig album, maar toch wel de minste. De band is later echt gegroeid, het latere werk is pakkender en ligt prettiger in het gehoor. Leuk debuut, maar niet meer dan dat.
Reactie van Een_Metalfan op 29-05-2002 om 00:21u
Score:
50
/ 100
quote: "..Maar goed, deze stem heeft ook wel iets.." ja.. iets kuts.. de 'remakes' op days of purgatory zijn stuk voor stuk beter al is op dit debuut wel goed het talent van Jon te horen
Reactie van JozzyJosbourne op 23-11-2002 om 12:42u
Score:
80
/ 100
Ik ben inderdaad blij dat Iced Earth en Night Of The Stormrider zijn geremasterd, want die stem was inderdaad wat minder. De muziek daarentegen is, afgezien van de opnamekwaliteit, veel beter dan de huidige Iced Earth. Daarom is Burnt Offerings mijn favoriet; de nieuwe zanger met de oude muziekstijl. Maar ik vond het niet nodig om tracks van burnt offerings ook geremastered te hebben. Gelukkig is er een amerikaanse versie van Days Of Purgatory met 15 tracks die alleen afkomstig zijn van Iced Earth en Night Of The Stormrider. Een heerlijk album.
Reactie van Cloud004 op 10-02-2003 om 11:48u
Score:
80
/ 100
Dit album is echt een schitterende stukje kunst!!! Het is een van hun beste albums! Voor de meeste fans is de stem van Barlow een stuk toegankelijker, wat voor mij ook geld. Maar de screams van de eerste zanger blijven toch nog altijd ongetipt. Alhoewel velen het anders zullen beweren, is dit een echt goede CD, met véél meer in zen mars dan Horror Show. Het was een ontgoochelend album voor mij maar dit zal zeker en vast goedgmaakt worden met hun nieuwe album die "The Glorious Burden" zal heten. Fans, Iced Earth blijft the King Of Trash Metal!!!
Reactie van friendly_dem0n op 11-02-2003 om 19:15u
Score:
90
/ 100
Dit was het eerste album die me bij Iced earth bracht. Daarom?? blijft het voor mij één van hun beste. De vocalen worden door velen beschreven als zwak... iets waar ik het niet zo mee eens ben. Ik geef toe, velen kunnen beter... maar Gene Adams past perfect bij deze muziek vind ik. Op het zelfgetiteld nummer tevens ook openingsnummer doet hij het prima. Beter dan de huidige zanger Matthew Barlow. Voor mensen die niet zo vertrouwd zijn met Iced Earth is dit misschien niet de juiste cd om mee te starten. Wat kan je verwachten op deze cd? Vooral stevige gitaarrifs die opgebouwd zijn uit tempo en tempo. De "gallopping rhythm" stijl van Jon Shaffer is voor mij onklopbaar. De drums zijn wat minder naar mijn mening. Steeds hetzelfde ritme, je mag niks spectaculairs verwachten. But hey, it fits the music perfectly !!! Voor mij is en blijft dit een cd van kwaliteit !!!