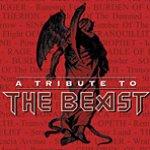 Tribute cds komen in alle soorten en maten. Van bar slecht tot erg goed, en er zijn er weinig die het presteren echt beter te zijn dan het originele materiaal. Soms zijn de nummers speciaal voor een tribute album opgenomen, maar in het geval van
A Tribute To The Beast
is dat niet het geval. De meeste nummers zijn al eerder uitgebracht, soms op normale albums, soms op speciale edities, of soms zelfs al op andere tribute albums. Het gaat hier om de enigzins bekendere bands zoals Iced Earth, Therion, Sinergy, Six Feet Under en Opeth, en is dus geen cd vol met underground metal bands.
Het eerste wat me opviel aan The Ides Of March / Purgatory, gespeeld door Steel Prophet, was dat ik dit al kende. Deze staat namelijk ook op A Call To Irons, een Iron Maiden tribute album van Dwell Records. Een goede cover, waarbij de zang sterk doet denken aan Paul Di'Anno. Andere goede covers zijn o.a. die van Rage (The Trooper)), Prowler door Burden Of Grief (al is het erg wennen aan de vocalen, maar het past er goed op), Die With Your Boots On door Sonata Arctica, en Transylvania door Iced Earth. Al deze covers wijken niet echt bijster veel af van de originele versies, behalve Burden Of Grief dan, maar dat is vooral de zang.
De cover van Hallowed Be Thy Name van Cradle Of Filth is al een aantal jaren oud, en ook al speelt de band de muziek erg goed, Dani Filth weet in zijn eentje heel het nummer te verpesten. Je moet aardig moeite doen om Stranger In A Strange Land te herkennen in de uitvoering van Disbelief; behalve de intro lijkt het er niet zo erg veel op.
Tierra Santa bewijst dat een eigen versie van een nummer ook goed kan zijn. Hun versie van Flight Of Icarus is compleet anders dan de originele versie, waarbij alleen de text en zanglijnen nog hetzelfde zijn. Maar ze hebben een heel rustig, sfeervol nummer ervan gemaakt. Muzikaal gezien lijkt Wrathchild aardig op het origineel, maar Six Feet Under heeft er een death metal versie van gemaakt, die verrassend goed klinkt.
De overige nummers op het album deden me niet zoveel. Therion's versie van Children Of The Damned en Sinergy's The Number Of The Beast zijn leuk voor een keer, maar niet echt iets bijzonders. En daarmee zijn ook de meeste tribute albums te omschrijven, en zo ook deze. Leuk voor een keer, maar de originele versies blijven beter.
Tracklist: 1. Steel Prophet - The Ides Of March / Purgatory
2. Children Of Bodom - Aces High
3. Rage - The Trooper
4. Cradle Of Filth - Hallowed Be Thy Name
5. Grave Digger - Running Free
6. Burden Of Grief - Prowler
7. Sonata Arctica - Die With Your Boots On
8. Therion - Children Of The Damned
9. Iced Earth - Transylvania
10. Opeth - Remember Tomorrow
11. Sinergy - The Number Of The Beast
12. Disbelief - Stranger In A Strange Land
13. Tierra Santa - Flight Of Icarus
14. Dark Tranquility - 22 Acacia Avenue
15. Six Feet Under - Wrathchild
16. Darkane - Powerslave