various - Roadrunner Roadrage 2005 (dvd)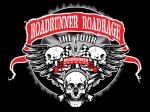 Het is inmiddels traditie geworden. Elk jaar komt de Roadrage tour, georganiseerd door Roadrunner Records, langs (dit jaar deed het Dynamo aan, en later kwam het gezelschap nog een keer naar Amsterdam), en komt er een dvd uit. De dvd staat eigenlijk los van de tour, afgezien van dat de bands op de tour ook op de dvd staan. Voor de rest is het een dvd met videoclips van de bands op het Roadrunner label. En het aantal clips groeit per dvd. De 2002 versie bevatte nog 20 clips, de 2005 versie heeft er meer dan 30.
Het betreffen voornamelijk clips van de meest recente albums van de desbetreffende bands. Zo krijg je dus 2 clips van Slipknot's "nieuwste" album (wat ook alweer anderhalf jaar oud is), de terugkeer van Obituary, en de Roadrage-tour bands Trivium, 3 Inches Of Blood en Still Remains. Ook staan er enkele iets oudere videoclips op, maar deze stammen ook zeker niet uit de oertijd. Ze komen voornamelijk van de vorige albums van onder andere Fear Factory, DevilDriver (die overigens ook een clip van hun nieuwe album op deze schijf hebben). Ook staat er dan nog een live clipje op van Soulfly, die een Sepultura klassieker spelen. Vele bands stonden al op eerdere edities van deze dvd, maar dan natuurlijk met andere videoclips.
Tracklist:
1. Slipknot - Before I Forget
2. Slipknot - Vermilion
3. Killswitch Engage - The End Of Heartache
4. Machine Head - Days Turn Blue To Gray
5. Trivium - Pull Harder On The Strings Of Your Martyr
6. 36 Crazyfists - Bloodwork
7. Chimaira - Cleansation (live)
8. Fear Factory - Archetype
9. Fear Factory - Bite The Hand That Bleeds
10. Cradle of Filth - Nymphetamine Fix
11. Wednesday 13 - I Walked With A Zombie
12. DevilDriver - Hold Back The Day
13. DevilDriver - Nothing's Wrong?
14. Soulfly - Roots Bloody Roots (live)
15. Caliban - The Beloved & The Hatred
16. Still Remains - The Worst Is Yet To Come
17. The Agony Scene - Prey
18. 3 Inches Of Blood - Deadly Sinners
19. Obituary - Insane
20. Hatebreed - Live For This
21. Betzefer - Down Low
22. Illdisposed - Still Sane
23. Blood Has Been Shed - She Speaks To Me
24. Zao - The Rising End
25. A Life Once Lost - Vulture
26. Terror - Overcome
27. Open Hand - Tough Girl
28. Walls Of Jericho - There's No I In Fuck You
29. Hopesfall - Icarus
30. Throwdown - Burn
31. Madball - Heaven-Hell
Reviewer: Tonnie
Toegevoegd: 18 september 2005
various - Roadrunner Roadrage 2005 (dvd)
Reactie van Squidward op 02-03-2006 om 22:15u
Score: 90 / 100
Dit juweeltje heb ik gewoon voor 6 euro's bij de Free Record Shop gehaald! En dat voor 31 videoclips.