Darkdayrising - Prelude To Dismay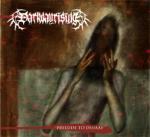 Ik heb deze Nederlandse band altijd al erg goed gevonden. Jammer genoeg presenteren ze ons nu weer maar twee echte nieuwe nummers aan op deze promo. Wie de band een beetje kent weet dat ze vroeger eigenlijk gewoon metalcore speelden maar dat ze door de jaren heen zijn geëvolueerd tot een vrij technisch death/trahsh ensemble.
De eerste twee nieuwe nummers zijn erg de moeite. Technisch, afwisselend, beukend, spannend en dynamisch zijn de sleutelwoorden die deze twee nummers definiëren. Het zijn zeker geen simpele straight in your face-nummers maar het leuke van deze band is dat ze desondanks hard blijven doorbeuken. 'Enemy' bevat ook nog opvallend veel thrashriffjes die me zelfs wel eens aan Slayer doen denken. Het nummer 'Revealed' (ook meer thrash-gericht) kennen we al van het in 2000 verschenen 'Apocalyptic visions of undeniable truth. Deze promo wordt afgesloten met het grindcore nummer 'Postnatal abortion of creative abominations' dat een 40 seconden duurt. Een bonusnummer met een knipoog dus.
Voor vier euro kan je deze promo op concerten kopen en voor vijf euro sturen ze je dit cd'tje op. Het niveau van de nummers is dus erg goed en de cover van Samuel Araya is voor een promo erg schitterend. Nu maar hopen dat een platenmaatschappij de promo ook op waarde schat zodat de heren eindelijk eens een platencontract kunnen scoren. Dit soort muziek zou zelfs niet op Relapse records misstaan!
Tracklist:
1. Nurtured misanthropy
2. Enemy
3. Revelation
4. Postnatal abortion of creative abominations (bonustrack)
Reviewer: Kristof
Toegevoegd: 21 april 2004
Meer Darkdayrising: