26 januari:

Bismut en Pande
27 januari:

Epica, Apocalyptica en Wheel
For I Am King en Another Now
28 januari:

Asphyx, Graceless en Necrotesque
For I Am King en Another Now
Into The Void festival
Life Of Agony en Prong
Prophecy Of ASAG, Schwarzstern, Von Mollestein en Egeria
29 januari:

Alestorm, Gloryhammer, Wind Rose en Rumahoy
Epica, Apocalyptica en Wheel
Metal Matinee: Thrash Attack
1 februari:

Bullet For My Valentine, Jinjer en Atreyu
Life Of Agony en Prong
26 februari:

Heidevolk en Baldrs Draumar
Turmion Kätilöt
Wardruna
Kalender
Vandaag jarig:
Chad Fisher (Armory) - 39
Eddie Van Halen (Van Halen)† - 68
Leszek "Les L. Kaos" Dziegielewski (Behemoth) - 53
Matthew Heafy (Trivium) - 37
Pablo González Sarre (Elfonía) - 46
Tom Keifer (Cinderella) - 62
Willie Adler (Lamb Of God) - 47
Wouter Huitema (Devious) - 40
Preview
Hellfest 2018
Door Tonnie, maart 2018
Wat ooit begon als Fury Fest werd in 2006 hernoemd naar Hellfest: in het Franse Clisson vindt elke zomer een groot metalfestival plaats, dat de laatste jaren steevast binnen een mum van tijd is uitverkocht! In de loop der jaren is Hellfest uitgegroeid naar 55.000 bezoekers per dag, waarmee het zich kan meten met bijvoorbeeld Graspop.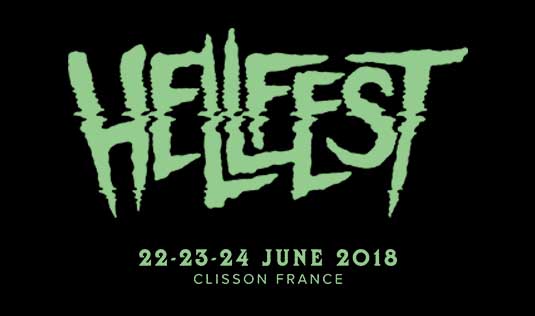 De line-up is elk jaar om van te smullen en wordt elk jaar nóg beter dan het jaar ervoor! Onder meer Rammstein, Black Sabbath, Iron Maiden, Twisted Sister, Linkin Park, Aerosmith, Slayer, Five Finger Death Punch, Ghost, In Flames, Sabaton, Alter Bridge, Prophets Of Rage, Megadeth, Korn en King Diamond stonden er, en dat is alleen nog maar in de afgelopen twee jaar!
Dit jaar vindt Hellfest plaats van 22 t/m 24 juni, zoals gezegd in het Franse Clisson (bij Nantes in de buurt). Dit jaar staan onder meer Iron Maiden, Judas Priest, Avenged Sevenfold, Hollywood Vampires, Megadeth, Nightwish, Marilyn Manson, Deftones, Parkway Drive, Body Count, A Perfect Circle en Limp Bizkit op het programma. De lijst is echter veel te lang om elke band te noemen, dus bekijk de poster hieronder om te zien wat er allemaal staat!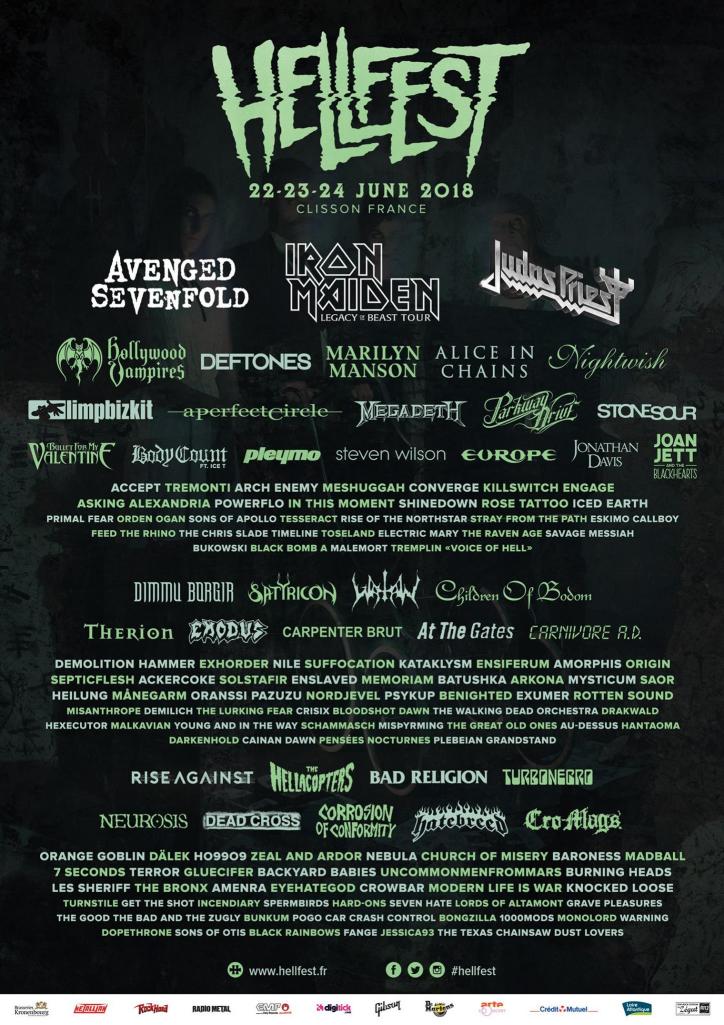 Heb je nog geen kaarten? Dat is balen, want het festival is al lang uitverkocht...
Alle informatie vind je op www.hellfest.fr.

Alle artikelen en foto's (afgezien van albumhoezen, door bands/labels/promoters aangeleverde fotos of anders aangegeven), zijn © 2001-2023 Metalfan.nl, en mogen niet zonder schriftelijke toestemming gekopieerd worden. De inhoud van reacties blijven van de reageerders zelf. Metalfan.nl is niet verantwoordelijk voor reacties van bezoekers. Alle datums van de Nieuwe Releases, Concertagenda, Kalender en in de artikelen zijn onder voorbehoud.