3 oktober:

Saxon en Diamond Head
4 oktober:

Brainstorm, Rage en Tri State Corner
Cradle Of Filth en Alcest
Hypocrisy, Septicflesh, The Agonist en Horizon Ignited
Samael en Diabolical
5 oktober:

Cradle Of Filth en Alcest
Liturgy
Paradise Lost
Samael en Diabolical
6 oktober:

Heideroosjes
Maiden United en Powerized
7 oktober:

Arena
Asagraum en Wesenwille
Cradle Of Filth en Alcest
Evergrey, Fractal Universe en Virtual Symmetry
Navarone
Veneration Of The Dead Preludiuim
8 oktober:

Cradle Of Filth en Alcest
Heideroosjes
Veneration Of The Dead
9 oktober:

Amaranthe, Beyond The Black, Butcher Babies en Ad Infinitum
Into The Void
Lionheart, Terror, Get The Shot en Dying Wish
Kalender
Vandaag jarig:
Allen Woody (The Allman Brothers Band)† - 67
Denis Cossette (Hanker) - 58
Eddie Cochran† - 84
Eddie DeGarmo (DeGarmo & Key) - 68
Herman Li (Dragonforce) - 46
Jason Hook (Five Finger Death Punch) - 52
Joey Radziwill (Sacred Reich) - 26
Jorge Sáez (Ebony Ark) - 44
Josh Klinghoffer (Red Hot Chili Peppers) - 43
Lindsey Buckingham (Fleetwood Mac) - 73
Lyor Cohen (platenbaas) - 63
Stevie Ray Vaughan† - 68
Tommy Lee (Mötley Crüe) - 60
Vandaag overleden:
Darryl James DeLoach (Iron Butterfly) - 2002
J.D. Kimball (Omen) - 2003
Mikko Laine (Sole Remedy) - 2011
Skip James - 1969
Preview
Hellfest 2018
Door Tonnie, maart 2018
Wat ooit begon als Fury Fest werd in 2006 hernoemd naar Hellfest: in het Franse Clisson vindt elke zomer een groot metalfestival plaats, dat de laatste jaren steevast binnen een mum van tijd is uitverkocht! In de loop der jaren is Hellfest uitgegroeid naar 55.000 bezoekers per dag, waarmee het zich kan meten met bijvoorbeeld Graspop.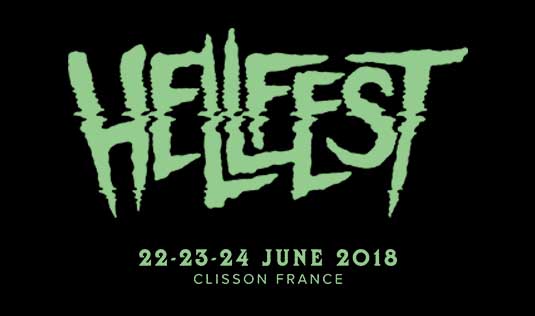 De line-up is elk jaar om van te smullen en wordt elk jaar nóg beter dan het jaar ervoor! Onder meer Rammstein, Black Sabbath, Iron Maiden, Twisted Sister, Linkin Park, Aerosmith, Slayer, Five Finger Death Punch, Ghost, In Flames, Sabaton, Alter Bridge, Prophets Of Rage, Megadeth, Korn en King Diamond stonden er, en dat is alleen nog maar in de afgelopen twee jaar!
Dit jaar vindt Hellfest plaats van 22 t/m 24 juni, zoals gezegd in het Franse Clisson (bij Nantes in de buurt). Dit jaar staan onder meer Iron Maiden, Judas Priest, Avenged Sevenfold, Hollywood Vampires, Megadeth, Nightwish, Marilyn Manson, Deftones, Parkway Drive, Body Count, A Perfect Circle en Limp Bizkit op het programma. De lijst is echter veel te lang om elke band te noemen, dus bekijk de poster hieronder om te zien wat er allemaal staat!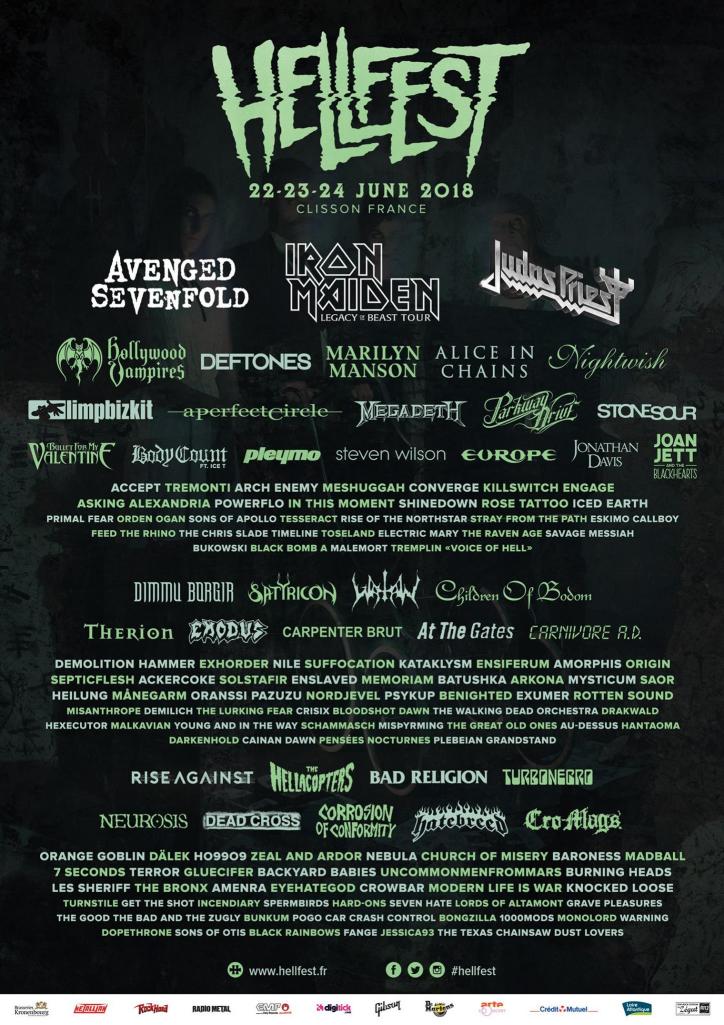 Heb je nog geen kaarten? Dat is balen, want het festival is al lang uitverkocht...
Alle informatie vind je op www.hellfest.fr.
Alle artikelen en foto's (afgezien van albumhoezen, door bands/labels/promoters aangeleverde fotos of anders aangegeven), zijn © 2001-2022 Metalfan.nl, en mogen niet zonder schriftelijke toestemming gekopieerd worden. De inhoud van reacties blijven van de reageerders zelf. Metalfan.nl is niet verantwoordelijk voor reacties van bezoekers. Alle datums van de Nieuwe Releases, Concertagenda, Kalender en in de artikelen zijn onder voorbehoud.