Insicknia - Ascent to the Sky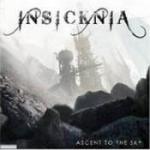 Als voorbereiding voor een nieuw tweede volledig album heeft de Deense band Insicknia de EP Ascent to the Sky uitgebracht als een soort van voorproefje op wat we nog kunnen verwachten. Hun eerste schijf Now Entering Insicknia dateert uit 2006 en daar was nogal wat op aan te merken. Zo waren de nummers rommelig, het niveau niet consistent en was het vooral één brok pure agressie wat je op je bord kreeg waarbij het moeilijk was een mooie melodie te ontwaren.
Op deze EP of demo, net hoe je het noemen wil, hebben ze het na wat ledenwisselingen beter aangepakt met nummers die daadwerkelijk voorzien zijn van enige melodie. Ook is de productie aardig voor een plaat die uit wordt gebracht in eigen beheer. Een groot gemis is echter nog altijd consistentie, want niet elk van deze vier nummers is een juweeltje. De mengelmoes van moderne thrash, death en hardcore is nog altijd keihard waarbij valt te denken aan het eveneens Deense Hatesphere. Ook springt hun geluid er nog niet echt uit qua originaliteit in de overvloed van keiharde bands als deze, maar het begin is er. Deze EP is dan ook een mooi visitekaartje om een label te krijgen voor hun aankomende album.
Tracklist:
1. Lies in Blood Out
2. A New Day
3. Ascent to the Sky
4. Holy Cell, Holy Hell
Reviewer: Walter
Toegevoegd: 21 september 2008
Meer Insicknia: