As Enemies Arise - Show Me That Smile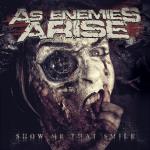 De laatste tijd schieten hardcorebands als paddenstoelen omhoog uit de Nederlandse bodem. En getuige van de doorgaans hoge kwaliteit is dit een goede zaak. Met de Nijmeegs/Boxmeerse combinatie As Enemies Arise hebben we weer een goede aanwinst in de scene. Met hun eerste EP
Show Me That Smile
laat de band zien waartoe ze in staat zijn. En daar zit een mooi toekomstperspectief in.
As Enemies Arise brengt een uitstekende mix van hardcore met een moderne insteek. Deze benadering geeft het geheel een verfrissend geluid, zonder dat het te gepolijst klinkt. De rauwheid van hardcore blijft intact en daarmee ook de opgefokte sfeer. Ik hou er doorgaans niet van om vergelijkingen te trekken met andere bands, maar zie het als een lichte mix van Hatebreed en Lamb of God. Beide geen pure hardcorebands (of helemaal niet), maar wel bands die innovatief zijn met het aanbrengen van nieuwe impulsen in een uiterst moeilijk te veroveren genre. En dit vermogen schuilt ook in As Enemies Arise. De lompe riffs, plotselinge versnellingen en strakke breakdowns. Alles is tot de puntjes slim uitgedacht en uitgevoerd.
De productie van het album rammelt nog wel allemaal, waardoor niet alle elementen goed naar boven komen. Vooral de vocalen van Gideon Kessler komen hierdoor niet helemaal lekker uit de verf. Ook de flauwe intro had voor mij niet gehoeven. Ik hoor ze liever meteen beuken, in plaats van dat ik eerst een soort slaapliedje hoor. Maar natuurlijk mag je een band dit bij hun eerste EP niet aanrekenen. Het laat vooral zien dat we met As Enemies Arise een nieuwe ruwe diamant erbij hebben.
Tracklist:
1. Intro
2. Dive In The Deep
3. Show Me That Smile
4. Traitor Among Us
5. Down To Nothing
6. Sleep In Ashes
Reviewer: Matthijs
Toegevoegd: 25 januari 2010
Meer As Enemies Arise:
Reactie van Bastiaan op 25-01-2010 om 14:12u
Twee nummers op MySpace klinken bij lange na niet slecht.