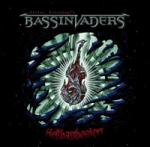 Ik ben dus echt zo iemand die bij het luisteren naar rock en metal nooit let op de basgitaren. Het zal me worst wezen hoe knap de baslijnen in een nummer in elkaar zitten, als de gitaren maar klinken! Natuurlijk snap ik ook wel dat de basgitaar erbij hoort en dat het een hoorbaar gemis is als het instrument niet aanwezig is. Het is tenslotte bedoelt als ritmische ondersteuning van de band. En het geeft een nummer net dat volle geluid om het af te maken. Maar dat is dan ook alles wat ik verwacht van de basgitaar. Nu heeft de basgitarist van Helloween, Markus Grosskopf, een hele cd gemaakt vol met basgitaren! Samen met Peavy Wagner (Rage), Schmier (Destruction) en Tom Angelripper (Sodom) heeft hij het project Bassinvaders uit de grond gestampt. Zou dit mijn interesse voor het instrument gaan wekken? Of is dit een ware hel voor mij?
Naast de basgitaar horen we nog wel echte drums en zang van onder andere Apollo Papathanasia (Firewind) en de drie zingende basgitaristen die al eerder genoemd zijn. Maar verder is dit dus een heuse karaoke-cd voor gitaristen geworden. Op Hellbassbeaters staan nummers met kop en staart, couplet en refrein. Het is dus zeker geen cd geworden met saaie fusion-achtige muziek, waarvan het niet zo gek zou zijn om alleen basgitaren te gebruiken. Dit is zelfs een echte metal-cd geworden, hoewel dat heavy aspect toch vooral van de heftige drums en soms agressieve zang komt. De basgitaar-sound is wel ietsjes zwaarder gemaakt, maar het instrument is verder duidelijk te herkennen.
De nummers zijn op zichzelf niet zo heel bijzonder. Alleen het heftige Godless Gods met Schmier op zang, het Helloween-achtige Boiling Blood en het grappige The Asshole Song steken eruit. Voor de rest is het duidelijk dat de aandacht toch echt naar het spetterende basgitaarspel van Markus en co is gegaan. Soms levert dat een lekker riffje op, zoals in Far Too Late. Maar vaker is het veel gepriegel en zijn de nummers echt volgestouwd met snelle baslijnen. Na een tijdje wordt ik er toch wel een beetje tureluurs van. Het idee is leuk en de uitwerking is eigenlijk wel naar verwachting. Gewoon een metalplaat met basgitaren. Als je nieuwsgierig bent, zeker uitchecken! Maar lijkt het idee je bij voorbaat al niks, dan ga je er ook niks aan vinden.
Bij deze nog een lijst met beroemde basgitaristen die Markus Grosskopf zover heeft gekregen om diverse solo's in te spelen: Billy Sheehan (Steve Vai, ex-Mr. Big, ex-David Lee Roth), Rudy Sarzo (DIO, ex-Ozzy Osbourne, ex-Whitesnake, ex-Quiet Riot), Lee Rocker (Stray Cats), Marco Mendoza (Thin Lizzy, ex-Whitesnake, ex-Ted Nugent), DD Verni (Overkill), Wyzard (Mother's Finest), Dirk Schlächter (Gamma Ray), Joey Vera (Armored Saint, Fates Warning, ex-Anthrax), Stig Pedersen (D.A.D), Nibbs (Saxon), Tobias Exxel (Edguy), Jens Becker (Grave Digger, ex-Running Wild), Dennis Ward (Pink Cream 69), Peter Baltes (Accept), Jan S. Eckert (Masterplan) and Michael Müller (Jaded Heart). Deze mensen vormen samen de... HELLBASSBEATERS!!!
Tracklist:
1. Awakening The Bass Machine
2. We Live
3. Armageddon
4. Romance In Black
5. Godless Gods
6. Empty Memories (Breaking Free)
7. Boiling Blood
8. Far Too Late
9. The Asshole Song
10. Dead From The Eyes Down
11. Razorblade Romance
12. Voices
13. Eagle Fly Free
14. To Hell And Back (Bonus Europe)