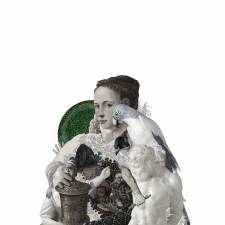 All Shall Be Well (And All Shall Be Well And All Manner Of Things Shall Be Well) … Met zo'n bandnaam weet je het wel. We hebben hier te maken met een instrumentale post-rockband. De groep met de geruststellende naam is al zo'n tien jaar actief. Met Zwartgroen levert het kwintet uit Haarlem zijn derde full-length af.
Kunsthistorie en fictieve verhalen lopen net als de kleurrijke albumtitels als een rode draad door de discografie. Neem de bandnaam, die is afgeleid van een boodschap die de Engelse mystica en schrijfster Juliana van Norwich tijdens één van haar zestien visioenen van Christus kreeg in de veertiende eeuw. Haar conclusie was dat goddelijke liefde de oplossing was voor alle problemen van het menselijk bestaan. Inspiratie met betrekking tot het artwork vond de groep muzikanten in het Rijksmuseum. Hoewel de muziek instrumentaal is, vertellen de heren met de songs een fictief verhaal. Niet voor niets is de ondertitel Romantic Imaginings Of An Environmental Apocalypse. Het gaat dan ook over het overleven in een post-apocalyptische wereld.
De groep bestaat naast bassist Wouter Geels en drummer Vincent van Velde uit maar liefst drie gitaristen: Joene Burghout, Niels Tusenius en Bas Huissen. Hier en daar hoor je ook keyboardpartijen in de composities, maar die spelen een ondergeschikte rol ten opzichte van het gitaarwerk, dat veelal melodieus en kalmerend is. Soms komt de naam van Explosions In The Sky in gedachten op en een enkele keer Mono (Beyond Us, Only Darkness). De composities zijn ondanks de bijdragen van drie gitaristen heel helder en open. De mannen verstaan de kunst van het weglaten.
In de stevigere passages, waarnaar veelal opgebouwd wordt, houdt All Shall Be Well de controle. Nergens vliegen de mannen muzikaal uit de bocht. Het blijft veilig. Ze imponeren vooral met de prettige vibe en de ingetogen, fraaie, hemelse harmonieën, soms gebaseerd op een enkel idee zoals in I Will Guide You Over Oceans And Across Troubled Lands, dat aanzwelt en eindigt met de minimale basis.
Van originaliteit moet de band het niet hebben. Alles is al een keer eerder gedaan. De overgangen verlopen echter soepel en de uitvoering is zeer verzorgd. Door eb en vloed af te wisselen blijft de spanningsboog gehandhaafd, zoals het cinematische, zorgvuldig opgebouwde Beyond Us, Only Darkness aantoont. Beslist een hoogtepunt, net als het ritmisch interessante Nothing To Go Home To, Nothing There To Come Home For, No Home To Return To, dat liefhebbers van If These Trees Could Talk wellicht aanspreekt. Geen enkele track valt uit de toon en het album is voorbij voor je er erg in hebt.
Je zou zeggen dat het een verlaten en donkere wereld is nadat het milieu door menselijk toedoen dusdanig is aangetast dat er vrijwel niets meer over is, maar de muziek van All Shall Be Well (de naam zegt het eigenlijk al) is eigenlijk heel vredig, sereen, troostend en hoopgevend. Meer groen dan zwart dus. De ruimtelijkheid, het lichte getokkel en de kalmerende melodieën laten je vrijwel constant in hogere en reflectieve sferen verkeren. Lijkt je dit wat, geef Zwartgroen dan een kans. Het album nodigt uit om steeds weer beluisterd te worden.
Tracklist:
1. Let Me Steer, As I Am The Bigger Captain
2. I Will Guide You Over Oceans And Across Troubled Lands
3. We Are All, In All Places, Strangers And Pilgrims, Travelers And Sojourners
4. Beyond Us, Only Darkness
5. Nothing To Go Home To, Nothing There To Come Home For, No Home To Return To
6. One Day I Will Find The Right Words And They Will Be Simple
7. For Now, We Travel