7 juni:

Rottenness, Gorgatron en Man As Plague
Sweden Rock Festival
8 juni:

Sweden Rock Festival
The Creepshow
9 juni:

Into The Grave
No Warning, One King Down, No Turning Back, Shutdown, Worst Doubt en Simulakra
Onthou en Gavran
Sweden Rock Festival
10 juni:

Akelei, Neroth, Façade en Baardvader
Blood Fire Undeath festival
Into The Grave
Into The Grave afterparty: Bongzilla en Ter Ziele
Mantah, Temptations For The Weak, Eightball en Deadlines
Sweden Rock Festival
11 juni:

Into The Grave
Into The Grave afterparty: Cerebral Extinction en The Troopers
Kamchatka en The Tiger Lovemachine
12 juni:

KISS en Skid Row
13 juni:

Asking Alexandria
KISS en Skid Row
Slipknot
7 juli:

Bospop
Tribulation en Laster
Kalender
Vandaag jarig:
Attila Kovács (Akela) - 43
Axtwald (Negator) - 42
Henri Samuli Seppälä (Children Of Bodom) - 43
James Smith (Season's End) - 41
Ole Alexander Myrholt (Enslavement Of Beauty) - 45
Pim Blankenstein (Officium Triste) - 53
Sebastian Paul (Syrens Call) - 54
Suvi Grym (Vanguard) - 44
Tomi Ullgren (Rapture) - 45
Yiotis Dounas (Blade Of Spirit) - 38
Vandaag overleden:
Christopher Lee (Rhapsody Of Fire) - 2015
Tourdagboek
Leaves' Eyes in Latijns-Amerika
Door Liv Kristine, oktober 2015
Leaves' Eyes was onlangs in het land voor een optreden in Zoetermeer, naar aanleiding van de nieuwe cd King Of Kings. Ons verslag van razende reporter Jeffrey lees je hier. Maar eerder dit jaar was de band op tournee door Latijns-Amerika, waar frontvrouw Liv Kristine een dagboek bijgehouden heeft. Ons werd gevraagd of we dit wilden publiceren. Aangezien Liv en haar band erg sympathiek zijn, naast dat het ook uitstekende muzikanten zijn, zeggen we daar natuurlijk geen nee tegen. Hieronder lees je dus het tourdagboek van Liv Kristine.

NO SLEEP FOR THE WICKED
Leaves' Eyes & Atrocity across Latin America 2015
by Liv Kristine
12. & 13. May
LH 520 took off from Munic, Germany, on time. We landed as scheduled in Ciudad de Mexico 4:00 a.m. After a few hours of sleep crew and band headed off to the venue. La Sala is a very good place to play gigs, moreover, the crew of "Dilemma" is first class! Really nice to see old friends again! For me it was the second time at La Sala within only a few months, which is a privilege. I greeted the Sirens at home in Europe with lots of pictures. What a warm welcoming for Leaves' Eyes and Atrocity after many years of waiting to return - what a fantastic audience! After a very short night of 1 hr 45 minutes sleep we headed off to the airport to catch our flight to El Salvador.
14. May.
San Salvador, El Salvador greeted us with warm weather and sunshine. Great to have a nap at the hotel's pool. The friendly staff provided us with coconut-pineapple-mango juice non stop. After three espressos on top our promoter team picked us up to take us to the venue. We knew it would be hot, but that gig was one big sauna! Two very friendly police officers paid us a visit, however, not to tell us about restrictions; they were interested in Joris' blast beat drumming and life on the road, moreover, life in Europe. We were very happy to meet & greet out metal audience in El Salvador for the first time. In the backyard of the venue the mangoes were falling down every 2 minutes as we were taking photos and doing signings every. I wish this sweet, awesome fruit would grow in my own garden!
15. & 16. May
I woke up by the cheerful singing of birds - an orchestra completely new to my ears! This day was a traveling day filled with great excitement. We crossed the boarders of El Salvador to Guatemala by bus which was great as we got to see numerous amazing places and landscapes. That afternoon it started raining heavily in Guatemala City, however, the venue's staff managed to keep the water off the stage. A really crazy audience greeted our bands with endless passion - Leaves' Eyes and Atrocity for the first time in Guatemala! Thanks to Ricardo, our promoter, a true death metal fan, and his team, we had a really good time in two countries I had never thought I would ever be able to pay a visit to within my lifetime. We made a stop on our way to the airport to take some good-bye pictures at the Central Plaza where the weekend market was taking place. Our next stop was Colombia!
17. May
17. May is Norway's national celebration day and it was the first time for our bands to play in Colombia! The audience at "Ozzy Bar" in Bogotá embraced us warm-heartedly and extremely loud! Thanx heaven, we had a late flight to Peru the day after the show so we could catch up with some sleep. It was great to have some time to walk around downtown through Bogotá's historic areas during the next afternoon. I absolutely loved the Plaza del Chorro. Thanx to driver Camilo and friends we had an awesome day with great impressions. I have to admit that I was indeed stunned by the beauty of the Colombian women, and I think my band members were, too! We were stunned to see that the main street leading through the city was full of people jogging, skateboarding or bicycling, and not by cars. Sunday seems to be the family day there - good weather, humble people and a fine atmosphere in Colombia's capital was the impression we were left with.
19. May
We played at the Lima Gotica Fest in front of a very excited audience! Diego and his crew did an awesome job to make us feel comfortable. Lovely, beautiful Maribé (of the band Crownless), who was my special guest on stage during Symphony of the Night" (Spanish version) that night, took us to one of the stunning Inka markets downtown and showed us around Lima. Next time we really hope to play a few gigs more for our Peruvian audience, moreover, to visit ancient ancient places. Maribé took us to a sea-side restaurant for a great meal and a breathtaking view.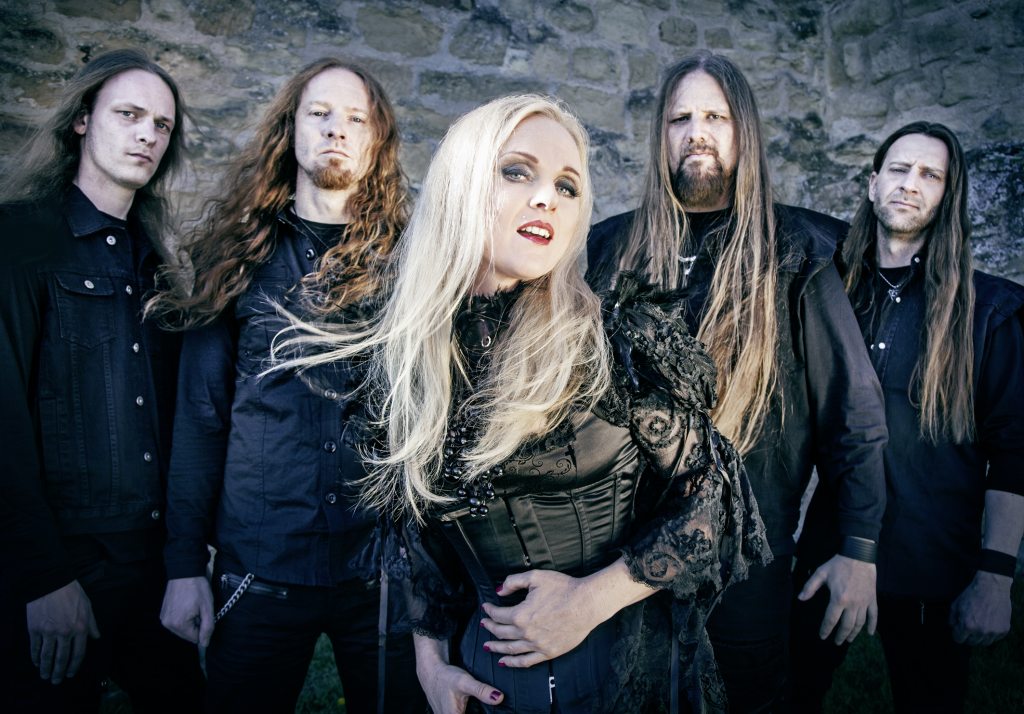 20. & 21. May
We landed in Santiago de Chile after just one hour of sleep that night. Nobody, really nobody, complained for one single second, really looking forward to our next show. Our last visit to Chile was in 2006. Our long-time friend, Toño, and his crew took so well care of us that we were able to play one of our hottest and loudest shows ever! Lovely Francesca, responsible for the catering and the over-all caring, brought us litres of pineapple-ginger juice and great food! I also met my one and only "personal bodyguard" and his sweet wife again for the second time this year.
Exhausted but happy we fell onto our beds at my favorite hotel (where I also stayed with the Sirens) around 2 a.m. Most of us slept through breakfast until lobby call 2.p.m. As soon as I got up. I just had to check the pool on the 7th floor at the hotel's roof, recalling that The Sirens had spent some time there in February this year. Unfortunately my red bikini remained untouched in my suitcase. No swimming this time due to the up coming winter season in Chile. Greeting my Sirens in Norway and Holland with kisses and pictures we agreed to try our best to return to Latinamerica as soon as possible, memorizing good times from our recent tour. My true supporter and friend, Nicole, from our fan club Leaves' Eyes Chile, and our friends embraced us with kisses, presents and pictures at the lobby. Toño, my "personal pickup", arrived with his Harley Davidson to take us out for a Chilean dinner at a real traditional place.
Waving goodbye to our wonderful friends and fans and Toño and Francesca we headed for the airport, not knowing what kind of a crazy trip we were soon to face. Some final pictures and hugs before boarding for our flight to Cochabamba via Lima and La Paz. The two transits in the middle of the night meant no sleep for the wicked. Oh how we all wished for a comfortable bed!
22.May
Fans and Gustavo's team had gathered at the airport 5:30 a.m. to greet us warmly with food and drinks and embracement, which was sorely needed. To mention that we all felt kind of dizzy is an understatement; we were completely worn out. The third flight in a row that night with no real possibility for sleep whatsoever in sight, awaited us. Arriving in Cochabamba, Bolivia, at a very early time, we were amazed that the streets were incredibly busy. During our ride to the venue we got an interesting view of daily life in Cochabamba which to me seemed like quite a culture clash between traces of ancient Bolivian culture and hectic city life which could be in any southern city in Europe. Feeling extremely tired after 20 hours of traveling we were happy to get 45 minutes of rest..but that was actually it. However, the passion and loudness of the audience who filled up the venue in Cochabamba was fantastic and thriving and we surely lifted the roof that night! Our promoter did her best to make us feel better and comfortable.
23. May
Our early flight to La Paz took us 30 minutes only. Enough to have a nap and just enough to have a cup of local tea which felt like true energy. From above we saw foot paths, tiny villages and lonely houses in the middle of the Andes. La Paz is famous for its altitude of about 4.000 metres. More local tea and an oxygen mask helped us getting through the soundcheck and the show, however, my passion for running through the German-Swabian forests and skiing in the Norwegian mountains surely added that sorely needed bonus to my state of fitness that day. For our long-time friend and all-round stage technician and helping hand, Zwini, this was his second visit to La Paz - a journey he had been dreaming of for years. Sofia and Christian took us for a walk around the city. Interesting places to see, like the Calle Sagarnaga and the San Francisco Church. We had a late but incredibly loud and passionate gig. After packing the gear and hurrying back to the hotel we were left with exactly one hour of sleep. God forbid any more sleepless nights, moreover, "traveling plus show" days!
24. and 25. May
The wake-up alarm called at 3:45 a.m. and I truly wanted to imagine that it was just a bad joke. The two flights to Buenos Aires felt like torture and it felt like a true relief to finally arrive at the Scala Hotel. Cristian, Gabi, Marina and the local promoter team helped us the best they could to make us feel comfortable. The gig was absolutely killer - the audience greeted us warmly and the meet & greet was truly a memorable one. Tatiana, seven years old, and her sweet family waved goodbye with kisses and hugs the next afternoon. In average the band slept 11 hours per person, for some of us, it meant finally getting over a delirious flu. Band and crew felt like reborn, thanks to Christian's effort and good planning. At 14 p.m. we drove to the harbour. It felt like a relief not having to enter a plane, however, a ship. We really enjoyed the comfortable over-see ride by Buquebus to Montevideo. On what would a metal band spend the local "left-over" money in a tax-free shop? On argan hair oil, of course!
26. May
Discovering the fact that the sea was just four blocks away from the hotel some of us decided to go for a walk. Per chance we met lovely Paulina and Rodrigo who gladly showed us around the city. We ended up at a German café, "Oro del Rhin" near Plaza de Indepencia for cake and coffee. Our brand new Uruguayan friends were of course invited to tonight's show. The audience was excellent and we all surely lifted the roof on a Tuesday night! Jorge, and his team were excellent - all lovely, humble people made this dream come true. We hope to return soon!
27.May & 28.May
Our flight to Curitiba took us only a few hours. Luggage pick up, check in and immigration during transit was smooth and really quick, however, some running to the already closing gate could not be avoided. After arrival, we had some time go for a walk through the city's pedestrian zone. Streets with no traffic seems to be a seldom attraction in Latin America. The coffee was excellent and the vegetarian restaurant next door to the hotel superb. We were in the best hands with Gustavo and his team taking care of everything. The audience in Curitiba was not as numerous as everywhere else, however, it was definately one of the loudest and craziest. Our dear friends from the Brazilian fan clubs were all present and after the show there was of course time for pictures and signings for everyone. It was a pleasure meeting Vinicius and his team. The next morning we all flew to Sãu Paulo.
29. & 30.May
Sãu Paulo and promoter Lucas welcomed us with sunshine! Gustavo took the vegetarians straight to a vegan restaurant which was awesome! Our friends Alessandra and Regiane, who also accompanied us during the Sirens' tour took me for a girl's shopping tour around the Asian quarter of Sãu Paulo. Returning at the hotel hours later I was surprised to discover that none of the guys had returned. The guys had paid a visit to legendary Galeria du Rock. I was over the moon to find both a gym and a sauna at the hotel. After breakfast the next day we enjoyed an espresso in the "winter" sun. Funny to skype with our families at home telling us about the hot weather in middle Europe. At the venue a lot of fans had queued up for the show. time for autographs and pictures. We really enjoyed the concert with killer audience and a promise to return soon. One more show to go. Only one more early flight.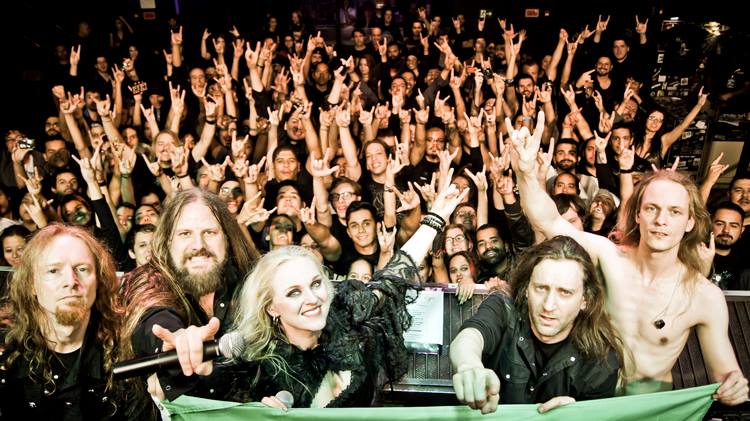 31. May
Our flight to Belo Horizonte was early, and only 53 minutes. Even too short for a cup of tea. On our way to the hotel we made a stop at the soccer arena - a surprise highly welcomed by my own metal team. Luckily we had some time to catch up with some sleep before soundcheck. In front of the venue a lot of fans were waiting for us, even a few friends we had met at concerts in northern Europe. The final gig was a blast - thank you for this great, impressive grand finale! 2. June Lufthansa flight LH 505 landed safely and on time in Munic.
Last but least I would like to thank my band, Alex, Tosso, Joris and Pete and my crew, Zwini and Luis (the legendary "Zowe & Lowe" - yes, they're on facebook) for hanging in there and always working hard and passionately despite the crazy time-schedule of this tour. I am honestly and deeply proud of the fact that we actually visited 10 countries within the Latinamerican continent, reaching our destinations (13 cities) within 21 days. Moreover, we all would like to thank our true fans lifting the roof at the gigs, our true friend Marc for all coordination and support, our superb local promoters and their teams, bodyguards and drivers traveling and preparing the shows with us, Oliver and Steph for all concern, planning and routing. I thank you all from the heart for making this incredible and crazy metal journey come true.
9 juni:

Shakra - Invincible
Stellar Circuits - Sight To Sound
Alle artikelen en foto's (afgezien van albumhoezen, door bands/labels/promoters aangeleverde fotos of anders aangegeven), zijn © 2001-2023 Metalfan.nl, en mogen niet zonder schriftelijke toestemming gekopieerd worden. De inhoud van reacties blijven van de reageerders zelf. Metalfan.nl is niet verantwoordelijk voor reacties van bezoekers. Alle datums van de Nieuwe Releases, Concertagenda, Kalender en in de artikelen zijn onder voorbehoud.