4 december:

Babymetal
5 december:

Paul Di'Anno, Nightride, Electric Gypsy en Nocturnall
7 december:

Atreyu
Eindhoven Metal Meeting Warm-up Evening
Living Colour
8 december:

Beyond God
Eindhoven Metal Meeting
Floor Jansen en Anneke van Giersbergen
Gorgoroth, Aeternus, Impalement en Aran Angmar
Living Colour
Paul Di'Anno, Noturnall en Electric Gypsy
9 december:

Eindhoven Metal Meeting
The Amity Affliction, Comeback Kid, Alpha Wolf en Mugshot
Ye Banished Privateers
10 december:

Danko Jones en Radkey
Living Colour
Till Lindemann
Geen concerten bekend voor 04-01-2024.
Kalender
Vandaag jarig:
Frank Boeijen (The Gathering) - 50
Jan S. Eckert (Masterplan) - 58
Jerome Lavail (Your Shapeless Beauty) - 47
Kristian "Necrolord" Wåhlin (Diabolique) - 52
Mina Caputo (Life Of Agony) - 50
Morten Veland (Sirenia) - 46
Paul Kuhr (Novembers Doom) - 52
Piero Paravidino (Mesmerize) - 51
Robert Balci (Stormwitch) - 53
Vandaag overleden:
Tommy Bolin (Deep Purple) - 1976
Ook Scorpions bevestigd voor Graspop
Geplaatst op 20 november 2023 om 13:11u
In onze dagelijkse Facebook-rubriek Klassieker van de Dag hadden we vandaag Scorpions gekozen, omdat het er op leek dat die band een van de headliners is van Graspop Metal Meeting. Een paar uur later is dat bevestigd door het festival zelf. De Duitse legendes zijn een van de headliners van de laatste dag, zondag 23 juni 2024. Dit doen ze samen met de band die vanochtend zelf het nieuws te vroeg naar buiten bracht: Machine Head. De afgelopen week maakte Graspop al vijf andere headliners bekend: Tool, Five Finger Death Punch, Judas Priest, Bring Me The Horizon en Avenged Sevenfold. Welke band samen met Tool de openingsdag zal afsluiten, horen we waarschijnlijk binnenkort, evenals alle andere acts. De jaarlijkse Graspop Metal Meeting vindt komend jaar van 20 t/m 23 juni plaats in het Vlaamse Dessel. De kaartverkoop begint op zaterdag 25 november. Voor die tijd verwachten we nog een hoop namen en de aankondiging van de ticketprijzen.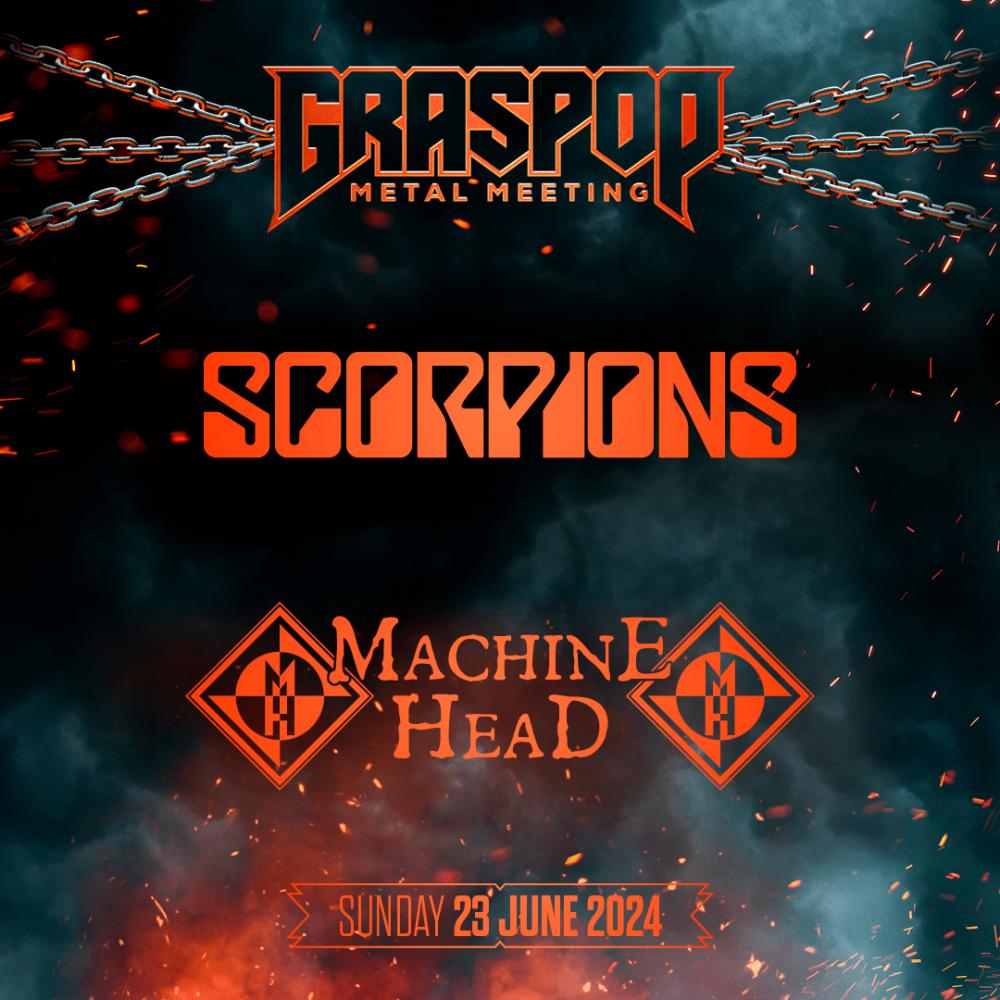 Alle artikelen en foto's (afgezien van albumhoezen, door bands/labels/promoters aangeleverde fotos of anders aangegeven), zijn © 2001-2023 Metalfan.nl, en mogen niet zonder schriftelijke toestemming gekopieerd worden. De inhoud van reacties blijven van de reageerders zelf. Metalfan.nl is niet verantwoordelijk voor reacties van bezoekers. Alle datums van de Nieuwe Releases, Concertagenda, Kalender en in de artikelen zijn onder voorbehoud.