4 december:

Babymetal
5 december:

Paul Di'Anno, Nightride, Electric Gypsy en Nocturnall
7 december:

Atreyu
Eindhoven Metal Meeting Warm-up Evening
Living Colour
8 december:

Beyond God
Eindhoven Metal Meeting
Floor Jansen en Anneke van Giersbergen
Gorgoroth, Aeternus, Impalement en Aran Angmar
Living Colour
Paul Di'Anno, Noturnall en Electric Gypsy
9 december:

Eindhoven Metal Meeting
The Amity Affliction, Comeback Kid, Alpha Wolf en Mugshot
Ye Banished Privateers
10 december:

Danko Jones en Radkey
Living Colour
Till Lindemann
Geen concerten bekend voor 04-01-2024.
Kalender
Vandaag jarig:
Frank Boeijen (The Gathering) - 50
Jan S. Eckert (Masterplan) - 58
Jerome Lavail (Your Shapeless Beauty) - 47
Kristian "Necrolord" Wåhlin (Diabolique) - 52
Mina Caputo (Life Of Agony) - 50
Morten Veland (Sirenia) - 46
Paul Kuhr (Novembers Doom) - 52
Piero Paravidino (Mesmerize) - 51
Robert Balci (Stormwitch) - 53
Vandaag overleden:
Tommy Bolin (Deep Purple) - 1976
Uitslag enquête: De beste Epica-song is...
Geplaatst op 19 november 2023 om 12:52u
Onder de noemer The Symphonic Synergy staat Epica op vrijdag 20 september 2024 in AFAS Live te Amsterdam, voor een bijzondere show met koor en orkest. De voorverkoop is reeds begonnen. Wij vroegen ons af welke songs jullie die avond het liefst willen horen (of bijvoorbeeld bij de festivalshow van Epica op Alcatraz 2024, die recent eveneens is bevestigd). Daarom stelde de frontpage-enquête van Metalfan.nl de afgelopen week de vraag: "Wat is jouw favoriete nummer van Epica?"
Bovenaan eindigen drie songs uit de begintijd van de Nederlandse symphonic metalband. Het goud is voor de titeltrack van de tweede cd Consign To Oblivion (2005). Daarna komen de titelsong van het debuutalbum The Phantom Agony (2003) en de eveneens van die langspeler afkomstige single Cry For The Moon. Als je verder leest, vind je de Top 10 van de uitslag, waarin we ook recentere nummers als The Skeleton Key tegenkomen.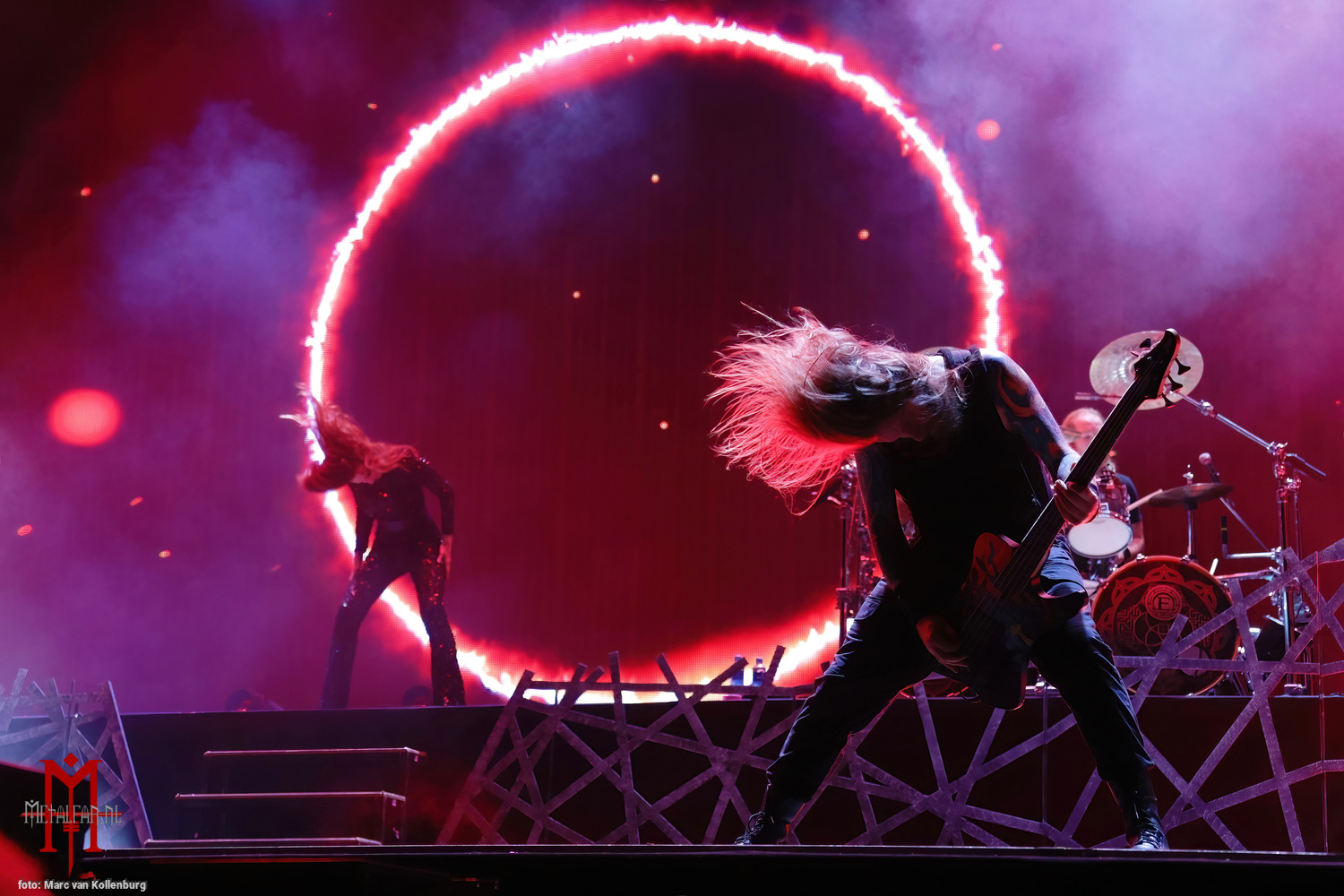 Een speciale vermelding gaat uit naar Kingdom Of Heaven. Die lange epic uit 2009 (waar later enkele vervolgen op kwamen) hadden we wegens plaatsgebrek niet bij de keuze-opties gezet, maar werd in de Facebook-reacties op de poll veel genoemd. We zijn alvast benieuwd of Epica dat geweldige lied en jullie andere favorieten gaat instuderen voor de speciale concerten, die voor volgend jaar op het programma staan.
1. Consign To Oblivion (14,1%)
2. The Phantom Agony (11,5%)
3. Cry For The Moon (11,2%)
4. Design Your Universe (7,7%)
5. Sancta Terra (5,9%)
6. The Skeleton Key (5,0%)
7. The Obsessive Devotion (4,1%)
8. Beyond The Matrix (3,8%)
9/10. Fools Of Damnation (2,9%)
9/10. Martyr Of The Free Word (2,9%)
Alle artikelen en foto's (afgezien van albumhoezen, door bands/labels/promoters aangeleverde fotos of anders aangegeven), zijn © 2001-2023 Metalfan.nl, en mogen niet zonder schriftelijke toestemming gekopieerd worden. De inhoud van reacties blijven van de reageerders zelf. Metalfan.nl is niet verantwoordelijk voor reacties van bezoekers. Alle datums van de Nieuwe Releases, Concertagenda, Kalender en in de artikelen zijn onder voorbehoud.