4 december:

Babymetal
5 december:

Paul Di'Anno, Nightride, Electric Gypsy en Nocturnall
7 december:

Atreyu
Eindhoven Metal Meeting Warm-up Evening
Living Colour
8 december:

Beyond God
Eindhoven Metal Meeting
Floor Jansen en Anneke van Giersbergen
Gorgoroth, Aeternus, Impalement en Aran Angmar
Living Colour
Paul Di'Anno, Noturnall en Electric Gypsy
9 december:

Eindhoven Metal Meeting
The Amity Affliction, Comeback Kid, Alpha Wolf en Mugshot
Ye Banished Privateers
10 december:

Danko Jones en Radkey
Living Colour
Till Lindemann
Geen concerten bekend voor 04-01-2024.
Kalender
Vandaag jarig:
Frank Boeijen (The Gathering) - 50
Jan S. Eckert (Masterplan) - 58
Jerome Lavail (Your Shapeless Beauty) - 47
Kristian "Necrolord" Wåhlin (Diabolique) - 52
Mina Caputo (Life Of Agony) - 50
Morten Veland (Sirenia) - 46
Paul Kuhr (Novembers Doom) - 52
Piero Paravidino (Mesmerize) - 51
Robert Balci (Stormwitch) - 53
Vandaag overleden:
Tommy Bolin (Deep Purple) - 1976
Zeventien nieuwe namen voor Alcatraz
Geplaatst op 17 november 2023 om 13:03u
Vandaag komen veel festivals met nieuwe namen. Zo ook Alcatraz. Een kleine week nadat men de komst van onder meer Europe, Saxon, Epica en Testament had bevestigd, laat de organisatie weten dat ook Whitechapel, The Ocean, Malevolence, Aborted, Emmure , After The Burial, Unto Others, Pro-Pain, Mental Cruelty , Uada , Cobra The Impaler, Carach Angren , Conan, The Lucifer Principle, 1000 Mods, Cut-Throat Los Angeles en Mantah aan de line-up zijn toegevoegd. Eerder waren al onder meer Amon Amarth, Architects, Opeth, Hatebreed, Cradle Of Filth, Clutch, Satyricon, Mayhem, Paradise Lost en Exodus bevestigd. Alcatraz vindt volgend jaar plaats van 9 t/m 11 augustus in het Belgische Kortrijk. De kaartverkoop is inmiddels gestart. Een combiticket kost je 209 euro, wil je een luxer VIP-ticket dan ben je 399 euro kwijt. Alle informatie vind je op www.alcatraz.be.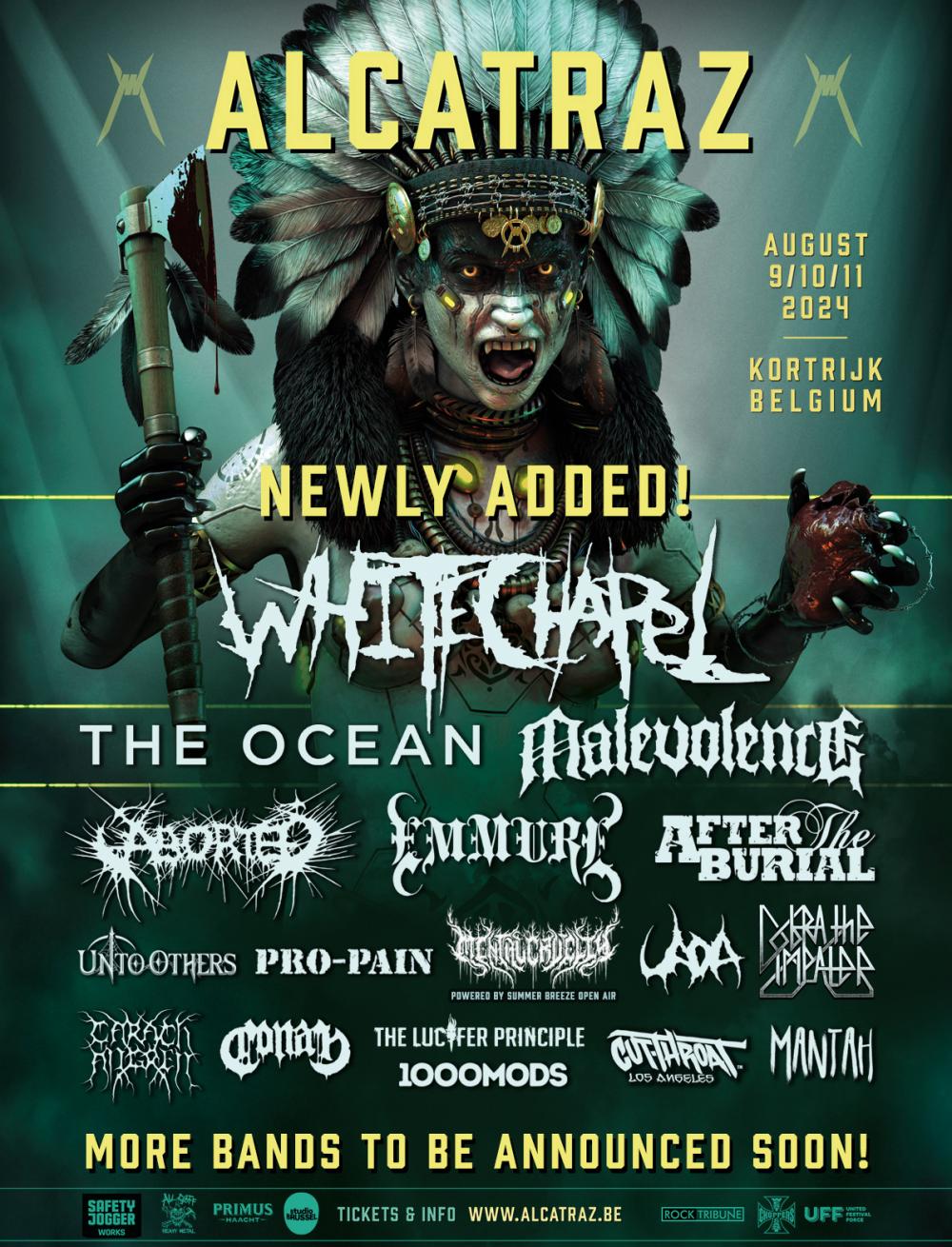 Alle artikelen en foto's (afgezien van albumhoezen, door bands/labels/promoters aangeleverde fotos of anders aangegeven), zijn © 2001-2023 Metalfan.nl, en mogen niet zonder schriftelijke toestemming gekopieerd worden. De inhoud van reacties blijven van de reageerders zelf. Metalfan.nl is niet verantwoordelijk voor reacties van bezoekers. Alle datums van de Nieuwe Releases, Concertagenda, Kalender en in de artikelen zijn onder voorbehoud.