1 juni:

White Hills
2 juni:

Mammoth WVH en Diggeth
Man As Plague, Teethgrinder, None Shall Fall en Bloid
Yes
3 juni:

Alter Bridge en Mammoth WVH
Lost Society
Salvage, Changing Tides en Tigerknife
Yes
4 juni:

Ghost en Halestorm
Staal, Menschwalsch, Busse En De Batavieren
World Decay, Bladecrusher en Drôvich
5 juni:

Turnstile
6 juni:

Gojira, Bloodywood en Urne
Yes
7 juni:

Rottenness, Gorgatron en Man As Plague
Sweden Rock Festival
1 juli:

Masterfest
Pitfest
Puscifer en Night Club
Wardruna
Kalender
Vandaag jarig:
Ignacio Ruiz (Arwen) - 44
Robert Vigna (Immolation) - 53
Vandaag overleden:
Victor Agnello (Lȧȧz Rockit) - 2014
Livestream van Rock Hard Festival
Geplaatst op 25 mei 2023 om 13:55u
Het Duitse televisieprogramma WDR Rockpalast maakt dit Pinksterweekeinde weer opnames van het gezellige Rock Hard Festival in het rustieke amfitheater van Gelsenkirchen. Op 26 juni, 3 juli en 10 juli komt daar ('s nachts) uitgebreid beeld en geluid van in de uitzendingen van Rockpalast op de zender WDR. De komende dagen kun je bovendien het festival digitaal live mee beleven via de officiële onlinestream.
Op het programma staan onder meer registraties van Michael Schenker Group, Sodom, Triptykon, Tankard, Discharge, Benediction, Vicious Rumors, Holy Moses en Legion Of The Damned. Bij de openingsbands op zaterdag (Midnight Rider en Knife) en op zondag (Iron Fate en Undertow) is de cameraploeg nog niet aanwezig, terwijl Testament en Katatonia helaas geen toestemming geven voor een concertregistratie. Bijgaand vind je het uitzendschema. De live-internetstream kun je van vrijdag 26 t/m zondag 28 mei bekijken via deze link.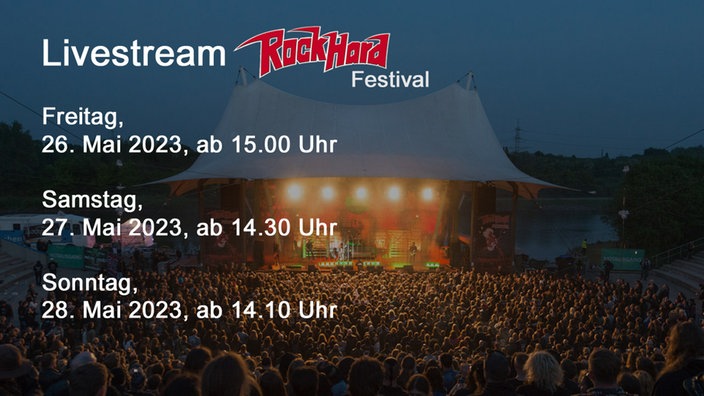 Uitzendschema live-internetstream WDR Rockpalast:

Vrijdag 26 mei:
15.00-15.40 Screamer
16.00-16.40 Motorjesus
17.00-17.55 Holy Moses
18.20-19.30 Vicious Rumors
20.00-21.15 Benediction
21.45-23.00 Triptykon performing early Celtic Frost

Zaterdag 27 mei:
14.30-15.20 Nestor
15.40-16.30 Depressive Age
16.55-17.50 Discharge
18.15-19.15 Brian Downey's Alive And Dangerous
19.45-21.00 Sodom

Zondag 28 mei:
14.10-15.00 Wucan
15.25-16.20 Legion Of The Damned
16.45-17.45 Enforcer
18.10-19.15 Tankard
21.30-23.00 Michael Schenker Group
Alle artikelen en foto's (afgezien van albumhoezen, door bands/labels/promoters aangeleverde fotos of anders aangegeven), zijn © 2001-2023 Metalfan.nl, en mogen niet zonder schriftelijke toestemming gekopieerd worden. De inhoud van reacties blijven van de reageerders zelf. Metalfan.nl is niet verantwoordelijk voor reacties van bezoekers. Alle datums van de Nieuwe Releases, Concertagenda, Kalender en in de artikelen zijn onder voorbehoud.