28 april:

Aephanemer
Cobra The Impaler, Bark en Hippotraktor
Graveyard en Kadavar
Metallica Amsterdam Takeover
Neverus, Sisters Of Suffocation en Vanaheim
Temple Fang en Baklawai
Kalender
Vandaag jarig:
Ari Nissilä (Catamenia) - 51
Daniel Cardoso (Anathema) - 42
Douglas J. Sylvia (Fear Of God) - 58
Enrico Canu (Heimdall) - 37
Erick Avila (Six Magics) - 44
John Evan (Jethro Tull) - 75
Nathanaël "Nath" (Anachronia) - 39
Ol Drake (Evile) - 39
Liveabum van Hollywood Vampires
Geplaatst op 18 maart 2023 om 13:00u
Rio De Janeiro is een geliefde plek om een livealbum op te nemen. Vooral op het Rock In Rio-festival, want daar zijn inmiddels al talloze officiële uitgaves van te verkrijgen. Deze zomer komt er nog een bij, want ook Hollywood Vampires - met in de gelederen niemand minder dan Alice Cooper, Joe Perry en Johnny Depp - gaat de show uit 2015 van dat festival uitbrengen. Onder de inspiratieloze titel Live In Rio verschijnt het optreden op 2 juni op cd. De eerste preview is er nu in de vorm van I Got A Line On You.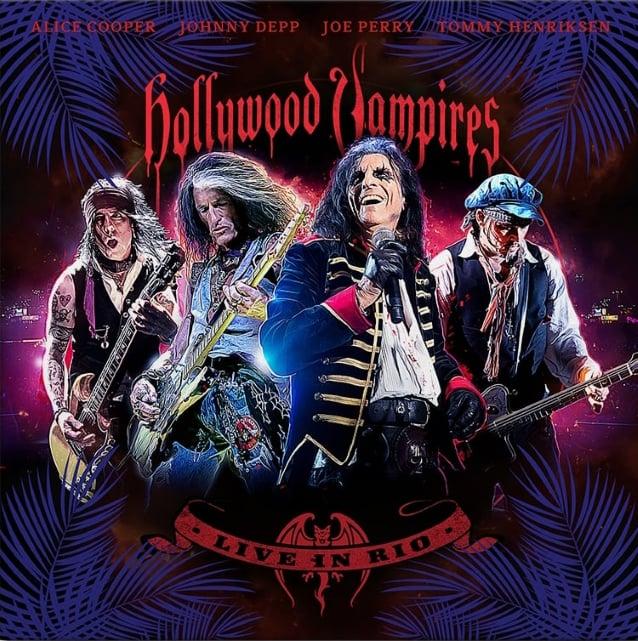 1. Raise The Dead
2. My Generation
3. I Got A Line On You
4. Cold Turkey
5. Five To One/Break On
6. Through (To The Other Side)
7. Manic Depression
8. 7 And 7 Is
9. Whole Lotta Love
10. Jeepster
11. I'm A Boy
12. School's Out
13. Billion Dollar Babies
14. Train Kept A-Rollin'
15. Brown Sugar
Alle artikelen en foto's (afgezien van albumhoezen, door bands/labels/promoters aangeleverde fotos of anders aangegeven), zijn © 2001-2023 Metalfan.nl, en mogen niet zonder schriftelijke toestemming gekopieerd worden. De inhoud van reacties blijven van de reageerders zelf. Metalfan.nl is niet verantwoordelijk voor reacties van bezoekers. Alle datums van de Nieuwe Releases, Concertagenda, Kalender en in de artikelen zijn onder voorbehoud.