23 maart:

Blood Youth, Cane Hill en Diamond Construct
Cannibal Corpse, Ingested, Dark Funeral en Stormruler
Ramkot
Wiegedood en Modder
24 maart:

Evil Invaders, Warbringer en Schizophrenia
Obstruktor, Infantry, Degenerate, Serotonia en Doodzonde
Truckfighters, Wizzerd en Deadly Vipers
25 maart:

Evil Invaders, Warbringer en Schizophrenia
Nephylim en Dodenkrocht
Obstruktor, Headless Hunter, Atmoran, Torn From Oblivion en Sapphyr
Sisters of Suffocation en Dispelled
Sorcerer en High Inquisitor Woe
Sworn Enemy, Pain Of Truth en Worst Doubt
The Answer en Black Mirrors
26 maart:

Blood Youth, Cane Hill en Diamond Construct
Cirith Gorgor en Lijkschouwer
Crowbar
28 maart:

Metallica Amsterdam Takeover
29 maart:

W.A.S.P.
Wiegedood
23 april:

Aviana, Invisions, Earh Caller en Dead Like Juliet
Evil Invaders, Warbringer en Schizophrenia
Roadburn festival
Kalender
Vandaag jarig:
Didier Delsaux (Manigance) - 57
Fabiola Bellomo (Frozen Crown) - 26
Gorlan (Elvenking) - 45
James Miller (producent)† - 81
Marco Soellner (Klimt 1918) - 47
Mikel Martinez (Valhalla) - 48
Phil Lanzon (Uriah Heep) - 73
Vandaag overleden:
Dave Brockie (Oderus Urungus) (GWAR) - 2014
Debuutalbum van Haliphron
Geplaatst op 31 januari 2023 om 18:03u
Leden van Bleeding Gods, Izegrim en God Dethroned zijn een nieuwe band begonnen genaamd Haliphron. Enige tijd terug kwam de eerste single al uit, vandaag heeft de band de details van het eerste volledige album bekendgemaakt. De debuutplaat heet Prey en zal negen tracks bevatten die zijn gemixt en gemasterd door Mendel bij de Leij. Het album verschijnt op 31 maart via Listenable Records. Haliphron bestaat uit frontvrouw Marloes Voskuil (Izegrim), gitaristen Ramon Ploeg (Bleeding Gods) en Jeroen Wechgelaer (Izegrim), bassiste Jessica Otten (Bleeding Gods), drummer Frank Schilperoort (God Dethroned) en toetsenist David Gutierrez Rojas (Bleeding Gods).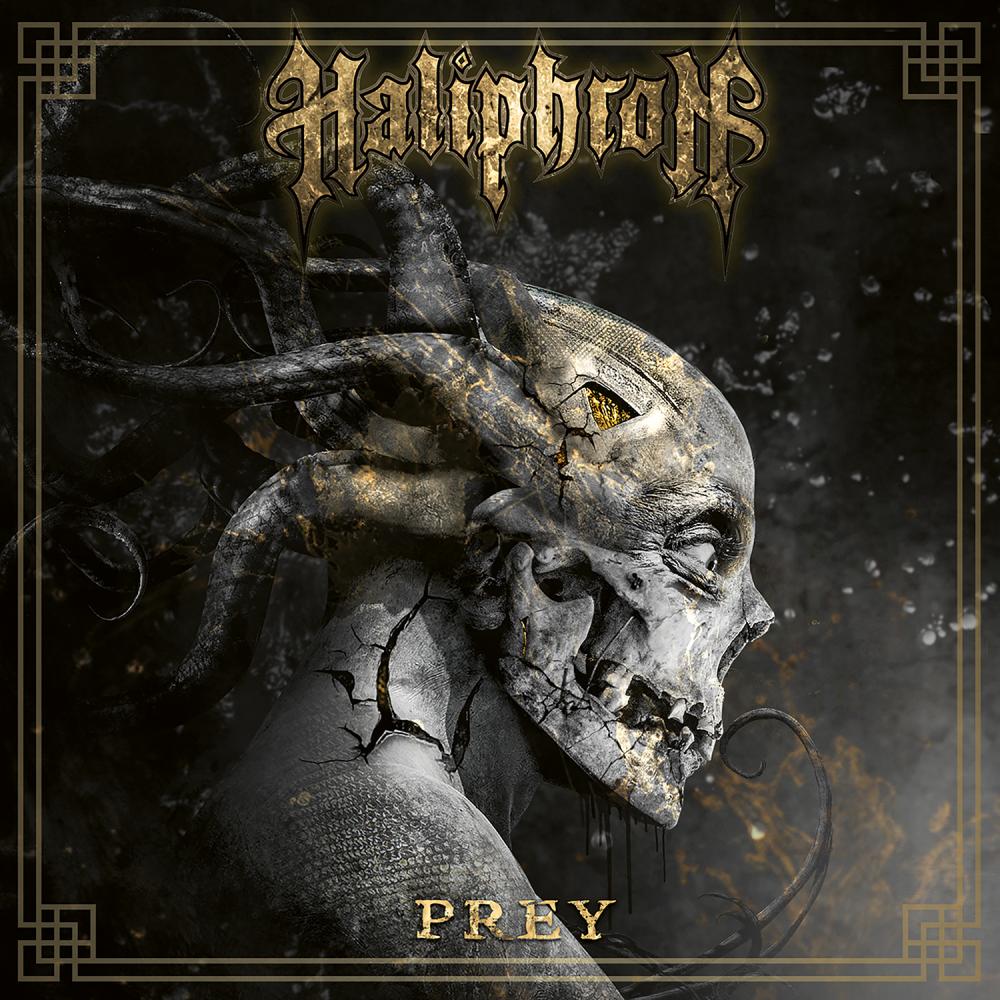 Tracklist:
1. Let the world Burn (intro)
2. The Killing Spree
3. Mother of all Evil
4. Perfect Existence
5. Prey
6. Human Inferno
7. The Resistance
8. Schizophrenia (bonus track)
9. Unidentified Mass
Alle artikelen en foto's (afgezien van albumhoezen, door bands/labels/promoters aangeleverde fotos of anders aangegeven), zijn © 2001-2023 Metalfan.nl, en mogen niet zonder schriftelijke toestemming gekopieerd worden. De inhoud van reacties blijven van de reageerders zelf. Metalfan.nl is niet verantwoordelijk voor reacties van bezoekers. Alle datums van de Nieuwe Releases, Concertagenda, Kalender en in de artikelen zijn onder voorbehoud.