30 november:

Fear Factory, Butcher Babies en Ignea
Gorgoroth, Aeternus, Impalement em Aran Angmar
Wargasm en Belle And The Beats
1 december:

Fear Factory, Butcher Babies en Ignea
Man As Plague, The Unslain, Burning, Bildtstar en Beyond The Pale
2 december:

Toxic Shock, Utopie, Parasite, World Decay, Sportweekend en Fazed
3 december:

Alestorm, Elvenking en Trick Or Treat
Audrey Horne
Babymetal
Gorgortoh, Aeternus, Impalement en Aran Angmar
Thundermother en Lansdowne
¡Pen­de­jo!
4 december:

Babymetal
5 december:

Paul Di'Anno, Nightride, Electric Gypsy en Nocturnall
Geen concerten bekend voor 30-12-2023.
Kalender
Vandaag jarig:
ADM (The Birthday Massacre) - 47
Billy Idol (Generation X) - 68
Cherie Currie (The Runaways) - 64
David Sancious (Bruce Springsteen) - 70
John Moyer (Disturbed) - 50
Mike Stone (Queensrÿche) - 54
Richard Barbieri (Porcupine Tree) - 66
Roger Glover (Deep Purple) - 78
Stephan Lill (Vanden Plas) - 55
Zoltán "Piócásember" Király (Akela) - 43
Vandaag overleden:
Aleksander "Olass" Mendyk (Acid Drinkers) - 2008
Munetaka Higuchi (Loudness) - 2008
Scott Smith (Loverboy) - 2000
Drie ep's van Sabaton op komst
Geplaatst op 30 september 2022 om 09:08u
De laatste twee albums van Sabaton gingen over de Eerste Wereldoorlog. De Zweedse band is er echter nog niet klaar mee. De mannen hebben enkele nieuwe songs opgenomen, die zullen verschijnen op drie ep's die elk een eigen thema hebben. Deze minialbums vormen samen de Echoes Of The Great War-trilogie en zullen ook nummers bevatten die op The Great War en The War To End All Wars staan. De eerste ep heet Weapons Of The Modern Age en is vandaag verschenen. Daarop staat onder meer het nieuwe nummer Father, dat je nu kunt beluisteren.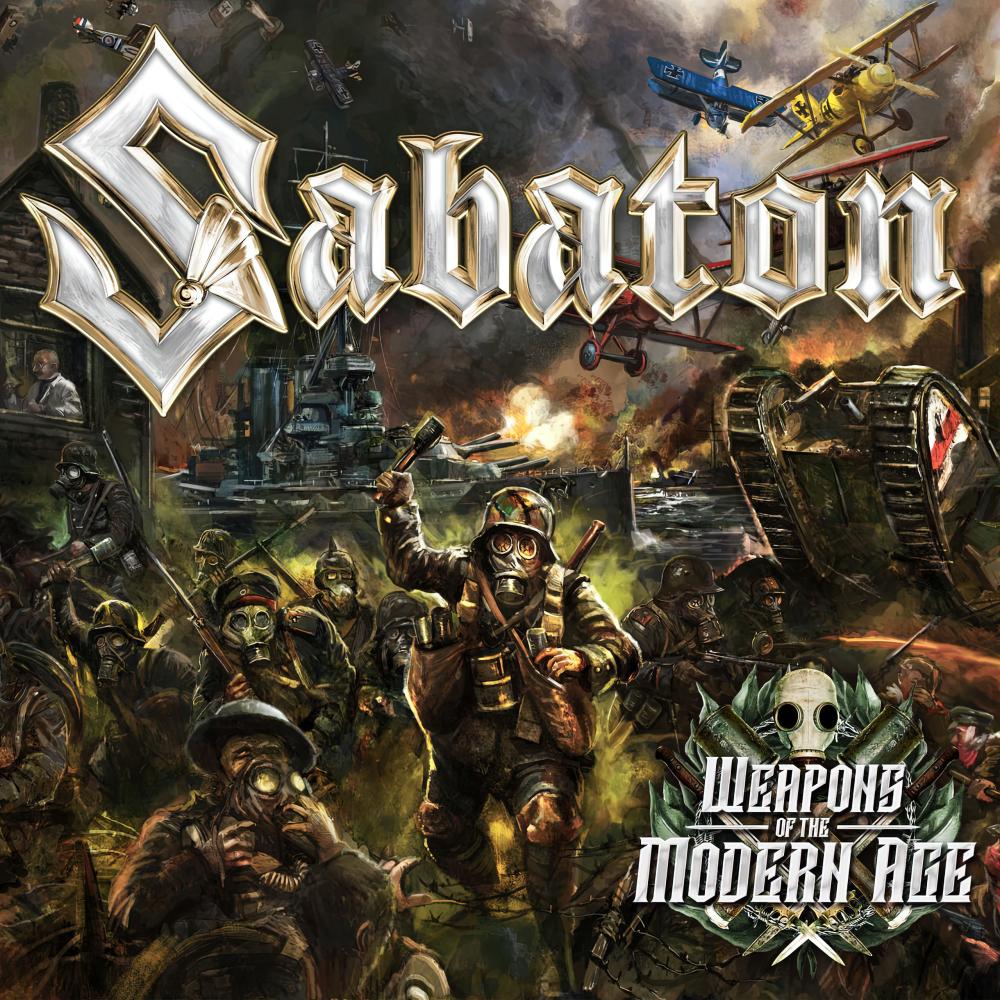 Tracklist:
1. Father
2. The Red Baron
3. Dreadnought
4. The Attack of the Dead Men
5. The Future of Warfare
6. Stormtroopers
Alle artikelen en foto's (afgezien van albumhoezen, door bands/labels/promoters aangeleverde fotos of anders aangegeven), zijn © 2001-2023 Metalfan.nl, en mogen niet zonder schriftelijke toestemming gekopieerd worden. De inhoud van reacties blijven van de reageerders zelf. Metalfan.nl is niet verantwoordelijk voor reacties van bezoekers. Alle datums van de Nieuwe Releases, Concertagenda, Kalender en in de artikelen zijn onder voorbehoud.