27 september:

Polaris, Alpha Wolf, Gravemind en Stepson
28 september:

Obscura, Persefone en Disillusion
29 september:

Djevel, Helleruin en Wrang
Visions Of Atlantis, Xandria en Ye Banished Privateers
Watain, Abbath, Tribulation en Bølzer
30 september:

Gaahls Wyrd, Saor en Gaerea
Geoff Tate, Crimes Of Passion en Demonhead
Kingfisher Sky en Ann My Guard
Soen
Visions Of Atlantis, Xandria en Ye Banished Privateers
Vola
1 oktober:

Hypocrisy, Septicflesh, The Agonist en Horizon Ignited
Mudhoney
Soen
Vola
2 oktober:

Amon Amarth, Machine Head en The Halo Effect
Geoff Tate, C.O.P. UK en DemonHead
Hypocrisy, Septicflesh, The Agonist en Horizon Ignited
Watain, Abbath, Tribulation en Bølzer
Kalender
Vandaag jarig:
Dennis Pepa (Death Angel) - 55
John Tempesta (White Zombie) - 58
Jussi-Mikko Salminen (HIM) - 45
Mika (Withering) - 45
Raphaël Couturier (Carcariass) - 49
Sami Vänskä (Nightwish) - 46
Steve Venardo (Airged L'amh) - 45
Vandaag overleden:
Brian Redman (3 Inches Of Blood) - 2009
Robert Palmer (The Power Station) - 2003
Drummer verlaat Sinister
Geplaatst op 21 september 2022 om 20:26u
Toep Duin gaat Sinister verlaten, zo laat hij in een statement op zijn Facebook-pagina weten. De zevenenveertigjarige drummer maakte vanaf 2011 met veel toewijding onderdeel uit van de metalformatie, maar vroeg zich het laatste jaar af of dit nou de band is waar hij mee door wil gaan. Het voelt alsof de energie weg is. Hij zoekt naar nieuwe muzikale uitdagingen en energie. Momenteel drumt Duin voor Consolation. Daarnaast is hij op zoek naar een heavy, hallucinerende, alternatieve whatever post-metalband en kijkt hij wat er verder op zijn pad komt. Op 1 oktober zit hij voor het laatst bij Sinister op de drumkruk tijdens Berlin Deathfest. Duin en Sinister, dat op zoek gaat naar een nieuwe drummer, wensen elkaar het beste.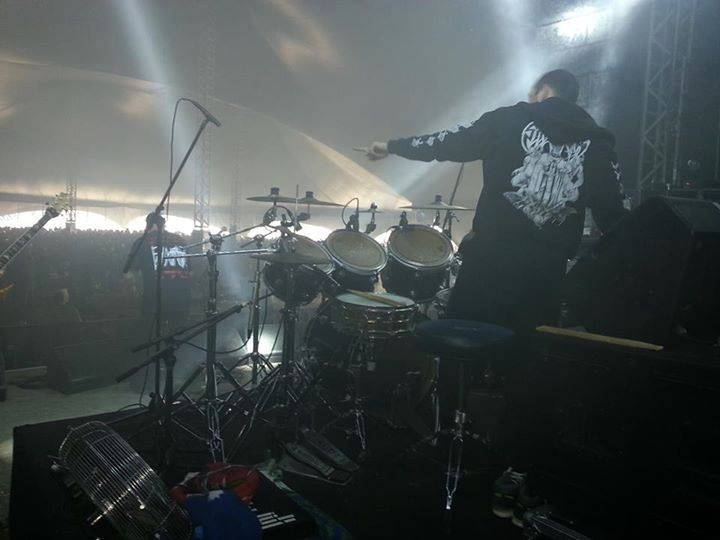 Alle artikelen en foto's (afgezien van albumhoezen, door bands/labels/promoters aangeleverde fotos of anders aangegeven), zijn © 2001-2022 Metalfan.nl, en mogen niet zonder schriftelijke toestemming gekopieerd worden. De inhoud van reacties blijven van de reageerders zelf. Metalfan.nl is niet verantwoordelijk voor reacties van bezoekers. Alle datums van de Nieuwe Releases, Concertagenda, Kalender en in de artikelen zijn onder voorbehoud.